Real Moms Fight the Frump & Win
As an Amazon Associate I earn from qualifying purchases. For more details, please see our disclosure policy.
What happens when you make the decision to make your appearance a priority? It can be a huge confidence-booster. See how these real moms fight the frump.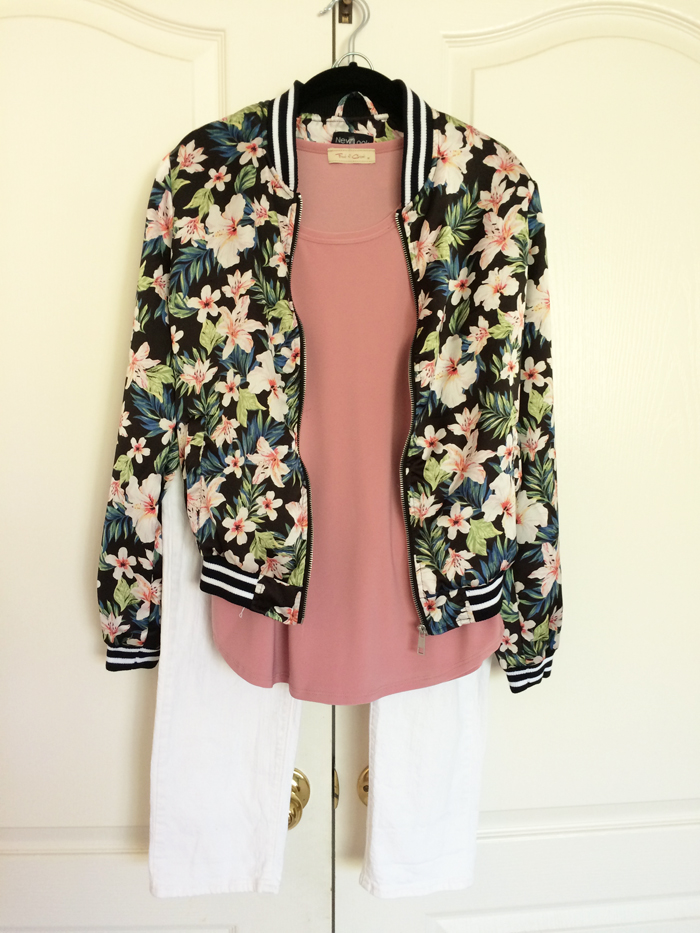 I believe every woman should feel pretty — inside and out. This is often a struggle, though. We live in a fallen world where bad hair days and bad attitudes can reign supreme. We make mistakes, we whine, we complain, and then find that our shirt is stained and our bra straps are showing. Insult to injury!
There is a connection between our insides and our outsides. I am more aware of my physical imperfections than my inner ones, but when I feel good about my appearance on the outside, interestingly enough, it helps me on the inside.
Since last September you've heard me wax eloquent about how fighting the frump and taking charge of my wardrobe has brought me such joy and confidence. When I leave my cave these days, I'm no longer self-conscious about what I look like. Instead of worrying about what people think of me or if I look like a dork, I can put more energy into watching my words, encouraging others, and looking outside myself.
No, I don't do this perfectly. I can still be Mrs. Crabbypants, but I find that fighting the frump has helped me in ways more than just external.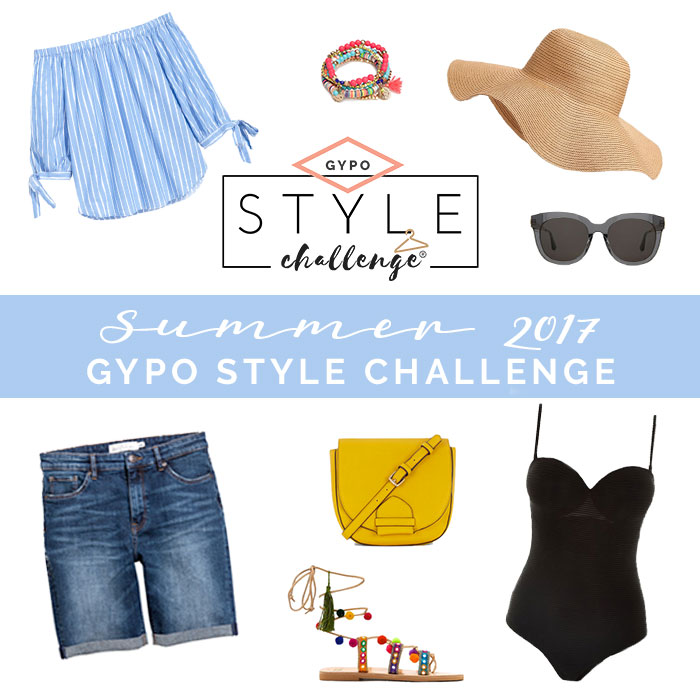 This post contains affiliate links. When you make a purchase through those links, I am paid a small amount in advertising fees. Thanks for your support!
One of the things that's helped me in this frump fight has been to get style advice in the way of the GYPO Style Challenges. These challenges have helped me explore fresh styles, invest in classic pieces, and basically feel all-the-way-around put together.
Registration for the Summer Style Challenge is now open! It's full of light, bright, and cheerful wardrobe pieces to help you enjoy the summer in style.
You'll receive a shopping list of classic and on-trend summer clothing items and accessories as well as 3-weeks' worth of outfits to help you put those pieces to good use.
The Style Challenges have been such a game-changer for me. I now have great seasonal capsules for fall, winter, and spring. I can't wait to get shopping for summer clothes. The summer challenge gives me such great direction!
REGISTER FOR THE STYLE CHALLENGE HERE
I'm confident that you will find the Summer Style Challenge to be a huge boost to your life as mom. But, don't take my word for it! I'm so pleased to bring you a series of interviews from Life as Mom readers who've taken my "fight the frump" challenge and seen great results. These women have stepped outside their comfort zones and feel all the better for it.
Real Moms Fight the Frump & Win
Each of these three ladies has taken a GYPO Style Challenge based on my recommendation. Since I'm an affiliate for the style challenges, it's important to me that I don't lead anyone astray in my recommendations. I make it my policy not to recommend anything that I can't stand behind 100%.
As we all know, though, your mileage may vary. I find that it's helpful to see what other people have experienced as well.
It's been such an honor to watch these real moms fight the frump AND WIN.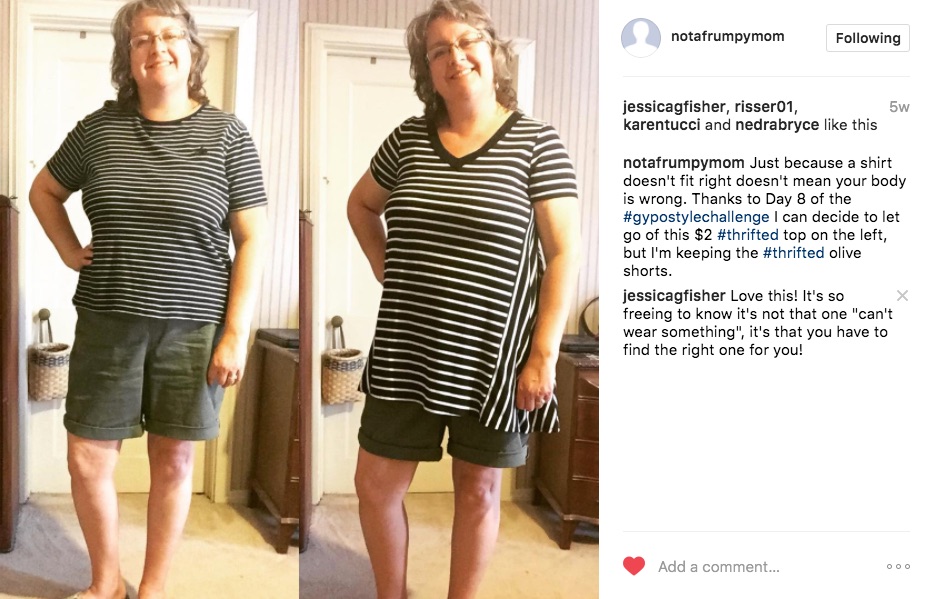 From Deja:
Why did you decide to do a style challenge and what has been the return on your investment?
When I signed up for the challenge, I felt a bit guilty for spending what felt like a lot of money for what I thought was just a shopping list and outfit ideas. I kept thinking about your "meal plan for clothes" and realized I have spent all kinds of money on cookbooks. Why not spend the money on the challenge?
I've gained an amazing amount of confidence with this challenge. I've gained weight and my body has changed and I just wasn't sure how to dress myself. I knew I needed a change, but how?
After 20 years as a SAHM, I'm reentering the work force and needed help in changing from tees and shorts or sweats. Full-length selfies and the input from the private Facebook group have helped me evaluate my clothing choices. I'm getting dressed and putting on makeup and jewelry every day. I can count on one hand the items I've purchased new in the last 3-5 years. I spent $65 on 2 new clothing items with this challenge. All of my other clothing pieces were $1.50-$8, and the shoes (Clarks and Converse with sequins) were less than $15.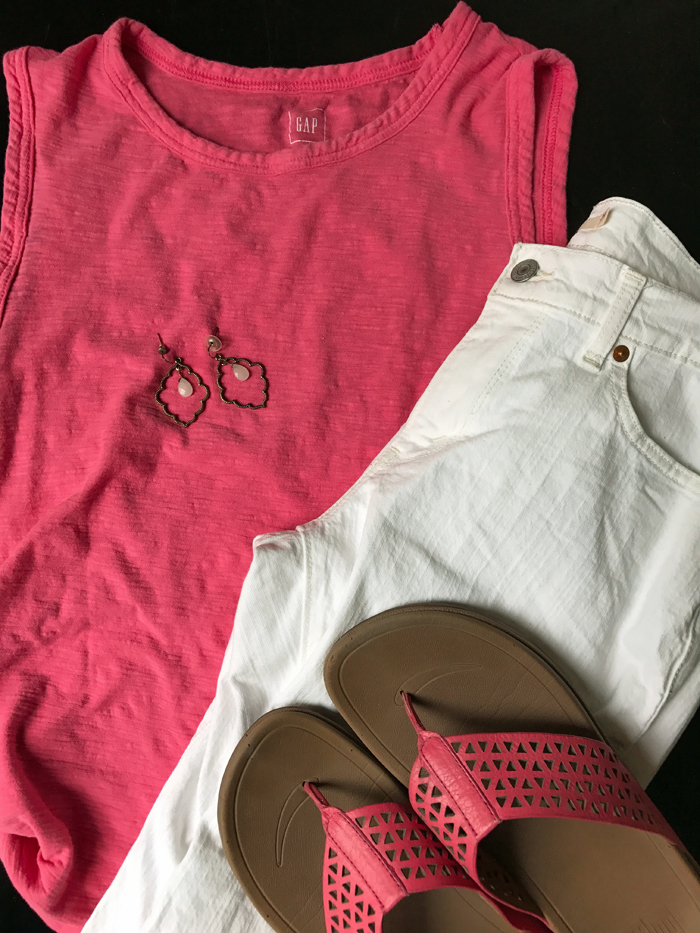 What have been your hesitations?
I wasn't sure as an older, plus sized SAHM that the challenge would actually work for me. Also, my current life is either homeschooling or substitute teaching in a public school, and I live in a hot climate. I knew I'd need to make some adjustments to the shopping lists. I wasn't sure how that was going to work…but it's just like substituting an ingredient in a recipe. I just needed a good recipe.
I really thought I'd ask for a refund within the first week. I was also concerned that I couldn't do it on my meager clothing budget. Since I was updating my wardrobe for returning to work, I knew I'd have to make some kind of investment, but I was worried that I would spend a lot of money on something that I would end up not wearing. I learned to spend on a "heck yes" item.
How has your family responded?
My 20- and 16-year old daughters have loved watching me take better care of my appearance. My husband has been encouraging and much more willing to spend money than I am. I have 4 sons, aged 5-18… they're mostly clueless, but I have had some compliments from them.
Honestly, I kept the challenge mostly to myself…my little treat. Haven't told any friends about it.
Will you continue to do the challenges or was one capsule/challenge enough for you?
I think I'll continue to do the challenges. My wardrobe still needs some tweaking for work, and participating in the Facebook group has been super helpful. Now that I know the cost is worth it, I'll start setting aside some money to cover my membership.
REGISTER FOR THE STYLE CHALLENGE HERE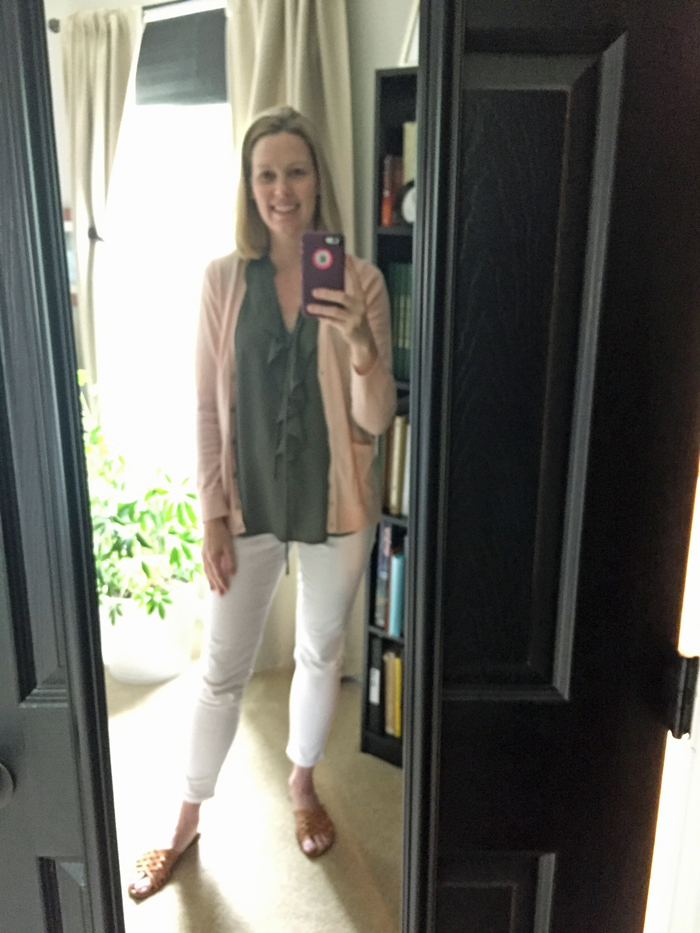 From Beth:
Why did you decide to do a style challenge?
Because I'm style-challenged, and I know it. That's the short answer. The long answer involves looking back at years and years of stressing over what to wear to different events, and running late because I couldn't quickly nail anything down that made me feel good. The long answer probably also includes too much time and money spent shopping but never knowing what to look for or how to wear it.
What has been the return on your investment?
I just finished up my second challenge, and the return I've received is that I have managed to have a workable wardrobe to go and do things without giving it much time or thought. This has been especially helpful during this season of life with young kids, including a newborn, when I don't have much time or brain space. But life must go on, and thankfully I know what I'm wearing to it.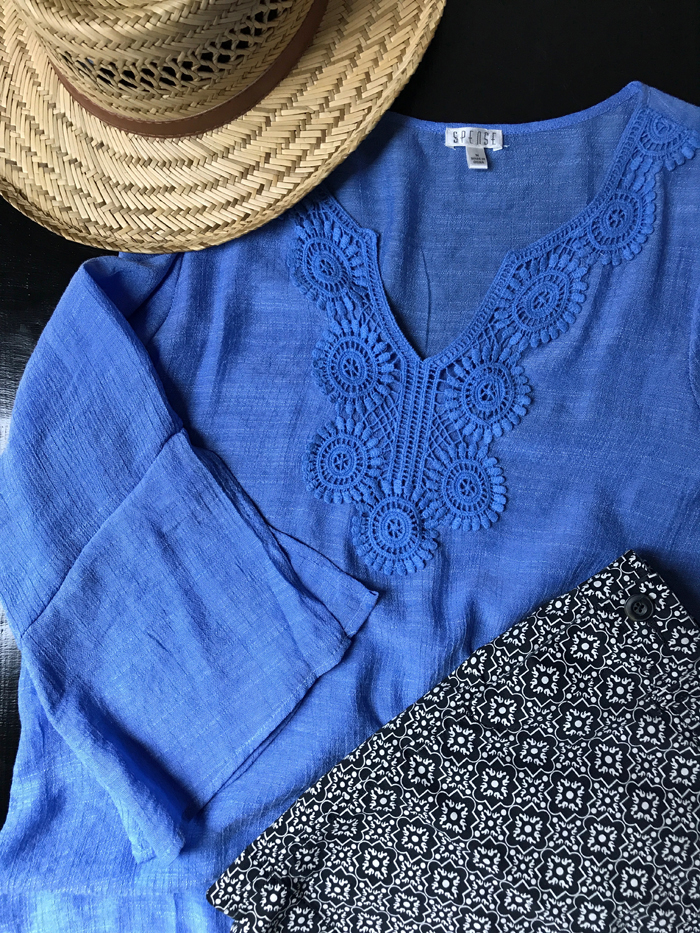 What have been your hesitations?
Whatever hesitations I had are completely gone now. I may have worried that adding another expense (the cost of doing the challenge) would only add to my bottom line and I would have less money to actually buy the clothes. But what I've found is that the challenge zeros in on the items I need, so there's no wasting money on items I won't use.
I've also found that the links inside the shopping list save me even more money — I can buy everything online without having to pay a babysitter to get what I need. Alison includes links to items at several price points. Right now with young kids, I'm in a season for buying cheap clothes. It gives me permission to look put together for my everyday, and even if someone spills or spits up on me I don't worry too much. I know if I end up needing to replace an item for another challenge, Alison will include inexpensive options.
How has your family responded?
My husband loves that what I wear is no longer a big ordeal, taking time away from family. It's done in a few clicks, and I feel and look great. And of course, he also loves the new look I'm sporting. In general, I've received more compliments about certain pieces more than I ever remember. "Cute belt!" or "Where did you get those jeans?"
Will you continue to do the challenges or was one capsule/challenge enough for you?
I will continue. I recently contacted Alison to see if gift cards are available. They are! My sister wanted a gift idea for me for my birthday, so I sent her the link to purchase one. Now my next challenge is paid for! I love that GYPO offered a Black Friday discount last year. I intend to purchase that every time it's offered. A great way to save.
REGISTER FOR THE STYLE CHALLENGE HERE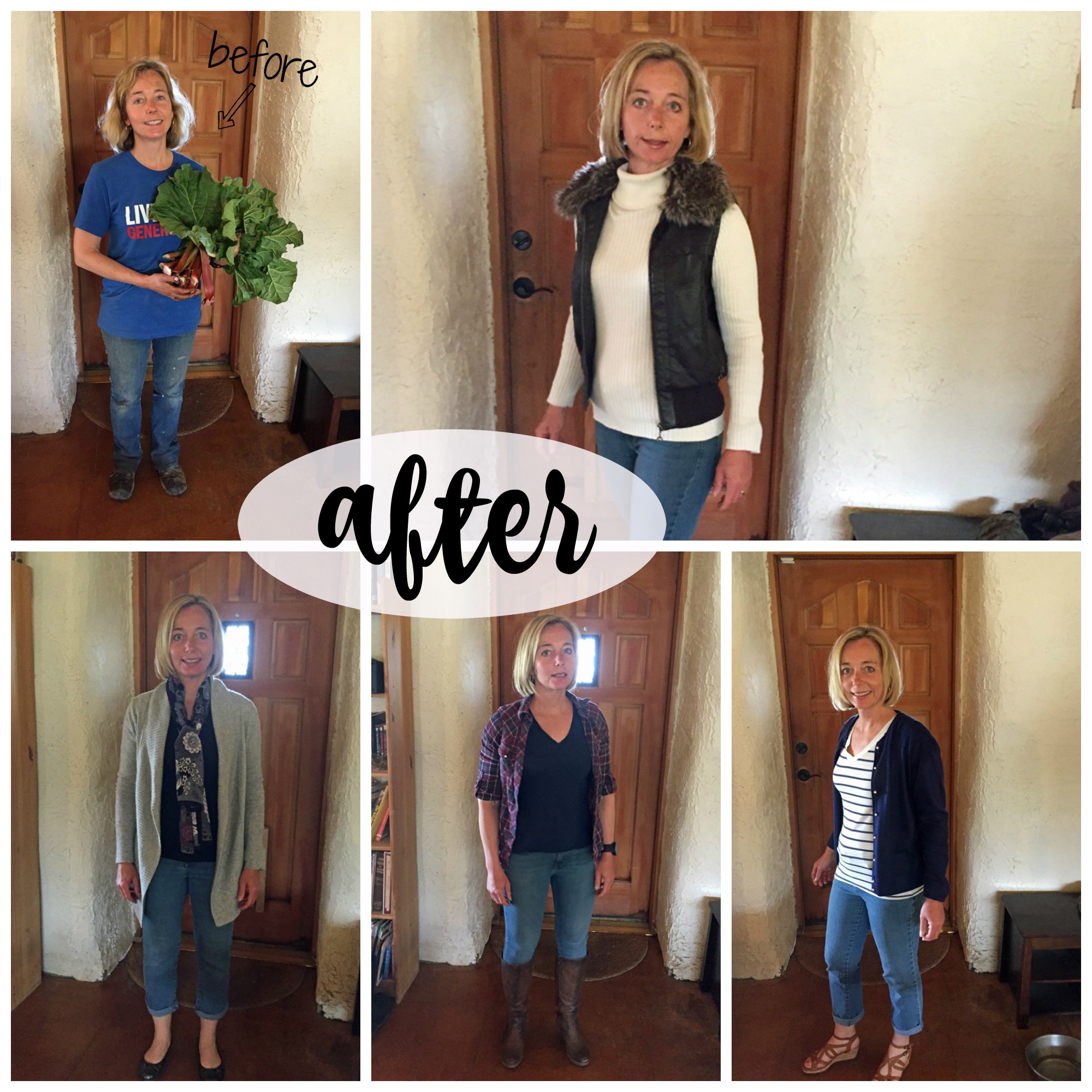 From Suzanne:
Why did you decide to do a style challenge?
Two years ago, I went from dressing up to teach at a college every day to starting a mini-farm. My teaching clothes were not appropriate for working in the veggie garden and tending chickens, so for practical reasons, I switched to wearing grubby jeans, T-shirts, sweatshirts, and work boots every day.
I found myself showing up at too many band and orchestra concerts, parent/teacher meetings, and other kids' activities in my gardening grubbies and realized I needed to add some clothes to my wardrobe that weren't as fancy as teaching clothes, but also not as grubby as gardening clothes.
What has been the return on your investment?
I have added a few pieces to my wardrobe that I absolutely love and wear over and over. I love that I can go to my closet and feel confident that I have some pieces that look nice on me when I am going out in public. I also love that many of the pieces can be mixed and matched so I can wear multiple outfits using just a few pieces without always looking the same. So I'd say the return has been pretty good!
What have been your hesitations?
I am in the process of starting up a small farm business, so I am not in a position to buy all of the pieces in each capsule. But I have found that by buying a few of the pieces, the ones that I love the most and think will coordinate with lots of other outfits, I can upgrade my wardrobe affordably, but maybe more slowly than some of the other folks doing the style challenge.
Another hesitation for me is about being part of the Facebook group. I took part in that for the Winter Challenge, but for me, it was too many Facebook posts to read each day. I enjoyed reading people's posts and seeing how they were styling the outfits, but I found that I was spending too much time doing Facebook each day for the style challenge. That is OK, though.
For the Spring Challenge, I've enjoyed getting the nightly e-mails, but did not join the Facebook group. For right now, that is about right for me, although if I have more time later, I might go back to following along with the Facebook group.
Another hesitation is that while I loved a lot of the pieces in the Spring challenge, I did not like some of them. The striped blazer and floral bomber jacket did not really fit my own style. But those pieces were also listed as optional. So I don't think that not liking some of the pieces is a very big issue, especially since I am adding only a few pieces each season.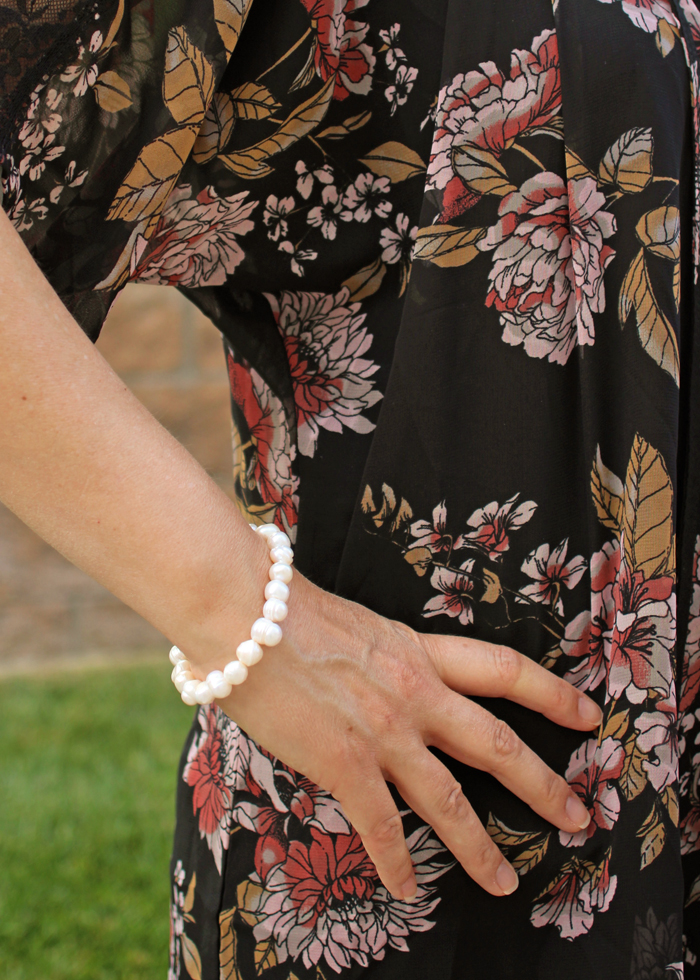 How has your family responded?
Well, my husband and 13 year old son are guys, so they are definitely non-committal. Although when I tell my husband I am shopping for clothes for my capsule of the season, he smiles and says supportive things, so that's good, I think.
And I have a funny story. I got a plaid shirt and skinny jeans that I wore with brown riding boots that I already owned (this one was from your capsule, Jessica). I loved the outfit and showed it off to my husband. He said, "You look just like a fake organic veggie farmer — I know what a real organic veggie farmer looks like [meaning that I usually look like a real one] and it's NOT like that!" He did like the outfit, though.
My daughter has been a huge supporter. She's 16, and she makes it a point to say when she likes my outfit. She encouraged me to get the skinny jeans (at 46, I thought I was too old for that, but actually they don't look to bad on me!). And a few times we've ended up accidentally twinning. I guess some of the styles span a pretty big age group!
Will you continue to do the challenges or was one capsule/challenge enough for you?
Well, I've signed up for a year of GYPO, so I will continue through this year. I am not sure beyond that, though. Actually, my favorite capsules have been the one from Life as Mom, the Winter 2016, and the stay at home mom one. So next year, I may just watch for SAHM capsules and not do the seasonal ones. We'll see.
So there you have it! Can real moms fight the frump — and win? Absolutely! I'd love to hear about YOUR experience in the comments.
What's been YOUR experience with the Style Challenges?
REGISTER FOR THE STYLE CHALLENGE HERE