Organized Enough to Make Room for Fun
As an Amazon Associate I earn from qualifying purchases. For more details, please see our disclosure policy.
Organization doesn't mean alphabetizing your spices. It means being organized enough to make room for fun.
In this monthlong series on organization, I'm trying to point out that being organized doesn't have to be rigid, alphabetized, perfect, or boring. In fact, I think that it looks messy at times. Being organized means you know where to go and what to do that best serves you and your family.
And that might mean, turning a blind eye to the messes and doing what's more important.
It's hard sometimes to know what is most important. I think that's where organization comes in handy. That's where we need to be organized enough to know where our priorities lie, to be organized enough to make room for fun.
Organized Enough to Make Room for Fun
If you've read this week's newsletter (ahem), then you know that during the last few weeks, my sweet little schedule has been turned on its head. With a big family wedding/reunion coming up next weekend, there's little hope of my life being the quiet, predictable thing I love. It hasn't been for a few weeks now.
This weekend was going to be a chance to catch up and catch my breath. until I received an invitation (and 4 free tickets) to Legoland Brick or Treat.
I took some of the boys to this special fall event a few years ago. At the time, the girls were disappointed that they hadn't been included. I knew that if the opportunity ever came again, I'd need to seize it.
(Note: This year we received free entrance to Legoland California Resort and the Brick or Treat Party Night. All opinions are my own.)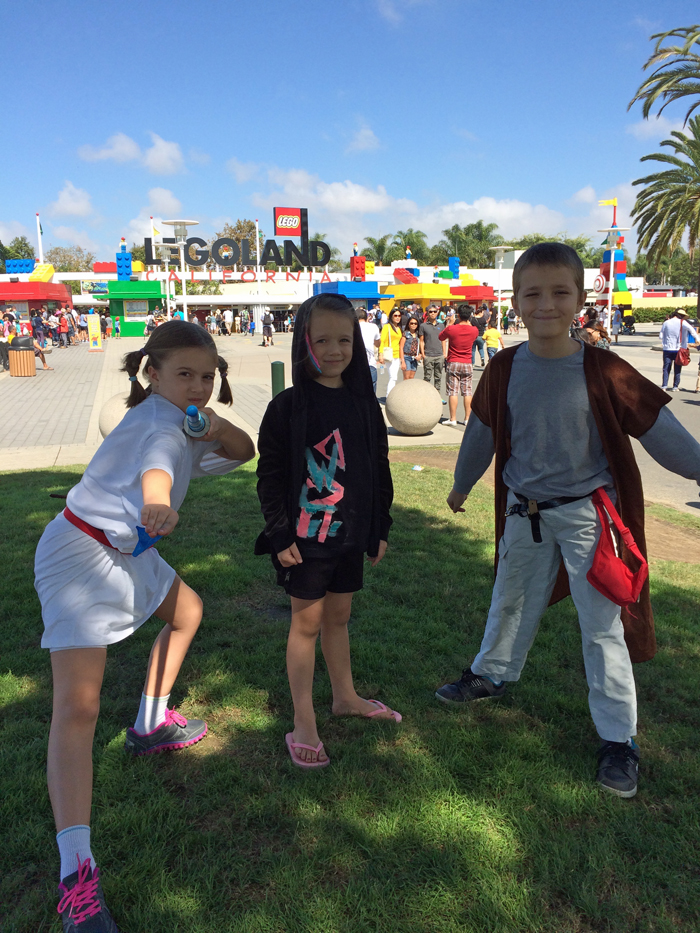 So I did — despite the fact that my to-do list covers a full size sheet of paper IN TWO COLUMNS.
And this weekend was a time to be organized ENOUGH. Here's how:
I downgraded Friday's schoolwork to "independent work only" so I could tackle some of the things on my to-do list.
I fought the urge to provide meals for the men (FishPapa included) staying home. Since all four were 13 and above, and two could drive, I figured they could handle it themselves. They did.
I did a little bit of work in the morning, but clocked out at 10 to shower, arrange Wyldstyle hair clips, attempt Princess Leia buns, downgrade Princess Leia to a padawan when the buns failed, and find the Abraham shepherd coat that works really well for Obi-Wan. FYI.
I found cash and a Legoland gift card to use up so we could easily buy meals and snacks.
I found three decrepit fanny packs to hold the granola bars the kids packed.
I stopped at Chick-fil-A on the way so we could have one meal already covered so we could hit the rides as soon as possible.
I made the mental decision to play with my littles. They aren't going to be little for much longer. Organized enough meant making the decision to have fun with them.
While I didn't follow all of my own rules for Amusement Park Survival, I was organized enough to make the day super enjoyable.
And you know what? It was.
Organized Enough to Spend the Day at Legoland
I tend to get a little crazy at amusement parks. I have been known to write a full itinerary of every ride in order to make the most of the excursion. I pack multiple meals and snacks. I haul a heavy backpack full of everything we could possibly need.
In this case, I did not do that. Here are some of the ways I was organized enough at the park.
What's your favorite ride?
Knowing that the park would be busy on a Saturday with a special event, I made sure to ask the kids what their favorite rides were. We tackled the Dinosaur, the cars, and the Beetle Bounce right away so we wouldn't fret about missing something.
In my okay-I'll-play-kind-of mindset, I promised that I'd go on the Beetle Bounce, too. Unfortunately, they've changed the rules since our visit in May. No adults on the Beetle Bounce. Womp. Womp.
No matter. The kids had a blast. They love the Dune Raiders slides and went down those mutiple times before it was time to share a hot fudge sundae.
Sample the food, not fill up.
Since park food is obviously going to be expensive, I went with the sampling method. I didn't know what kids would like or be able to eat when distracted by fun things, so we shared a hot fudge sundae. It was just enough to cool us off without being too filling. For $6, that was a decent treat.
Later on as dinner rolled around, we split a couple burgers and fries, that were surprisingly good, by the way, at Castle Burgers. So good in fact that FishBoy11 requested eating there again sometime. While we didn't get "full", it was enough.
Since I already had a gift card to use up, I didn't spend much out of pocket, but we did our best to make the most of what we did spend.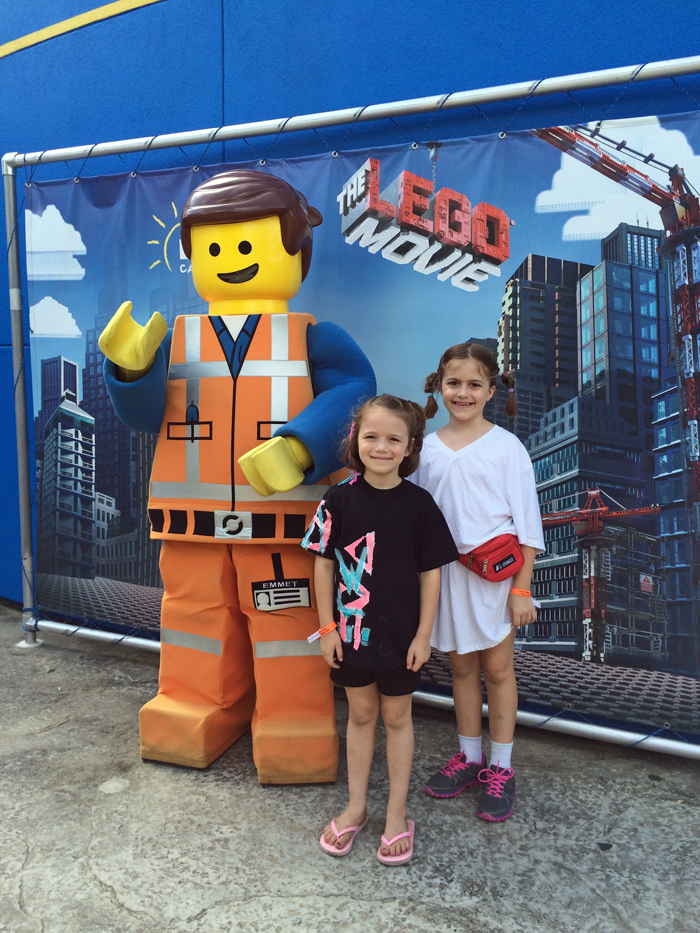 Ask directions.
My kids (all six of them) have loved Lego for what seems like forever. FishChick7 in particular is the most avid Lego maniac. She builds and creates all day every day.
This girl often has trouble making decisions, often changing her mind from hour to hour. She's had five different Halloween costume plans so far this year, but once I suggested she be Wyldstyle from The Lego Movie, her decision became solid. She is, after all, my Master Builder.
I knew that there was an actual set from The Lego Movie at the park, but I wasn't sure where it was. I was just about to haul the kids to the Imagination Zone, where I guessed it would be when I randomly stopped to ask an attendant and find out that no, it was in the opposite direction. Yay for being mindful enough to ask directions!
It was super fun to meet Emmet and see the movie set.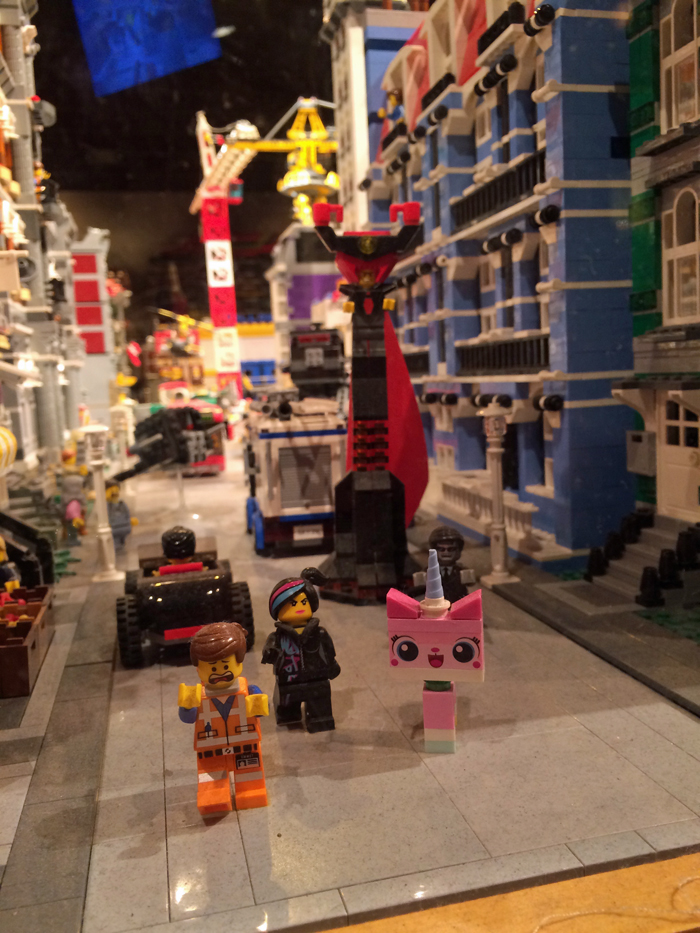 They have on display the whole city, the Kragle, and even the basement sets. We watched the movie again on Friday night before going to the park, so that made seeing the sets all the more fun.
The special event of the month is the Brick or Treat Party Nights. On select Friday and Saturday Nights in October, Legoland opens the park after dark, something they don't typically do, in order to have a little brick or treating.
This year is a little different from past years. The entire park is open, including rides and restaurants. It's all lit up with Chinese lanterns, twinkly lights, and bubble machines. It didn't photograph well with my phone, but trust me when I say that it looked magical.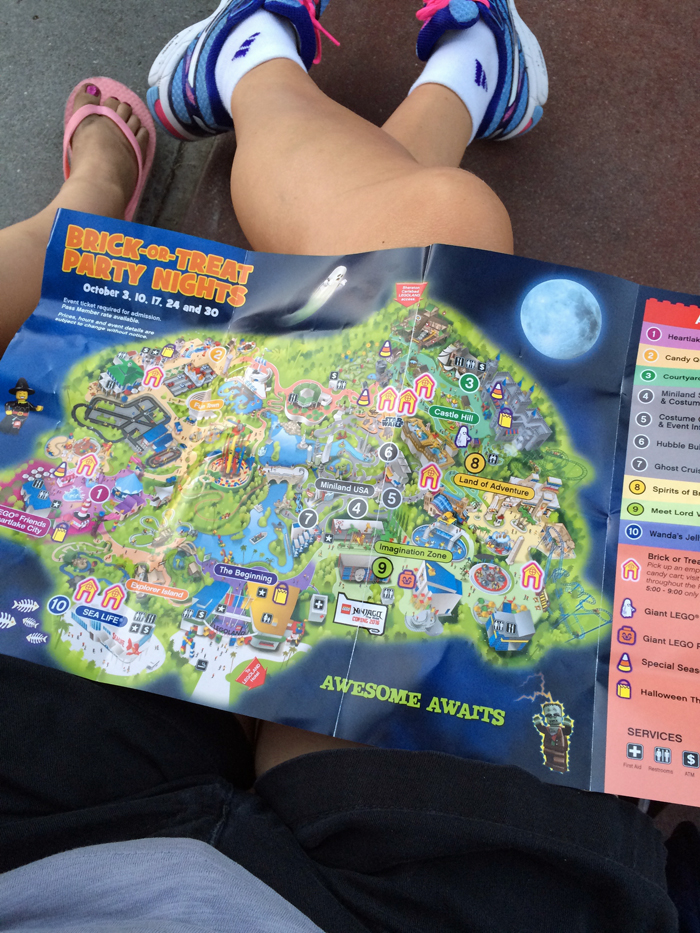 Legoland focuses on the 2 to 12 age group, so their efforts are to make it fun, not scary. I think they succeeded. The Candy Quest is located in the Adventurers Club, an attraction that has been known to freak out some of my kids. The Candy Quest did not freak them out, especially when they received free Chima sets! (Available during Brick or Treat Party Nights while supplies last.)
They have street entertainers walking throughout the park, live shows and entertainment at select locations, and brick or treat stations mapped out.
Read the map.
While we know the park pretty well, we found out that our map for Brick or Treat was worth its weight in gold to find all the brick or treat stations. One man in line ahead of us even took a picture of ours in case he didn't get a hold of one. Organized enough, I tell ya!
This year the Brick or Treat stations are spread out throughout the park instead of concentrated on Castle Hill as they have been in the past.
Brick or Treat is a special event, not included in the regular ticket. The park offers discounted tickets for the full day plus special event as well as night-only visits.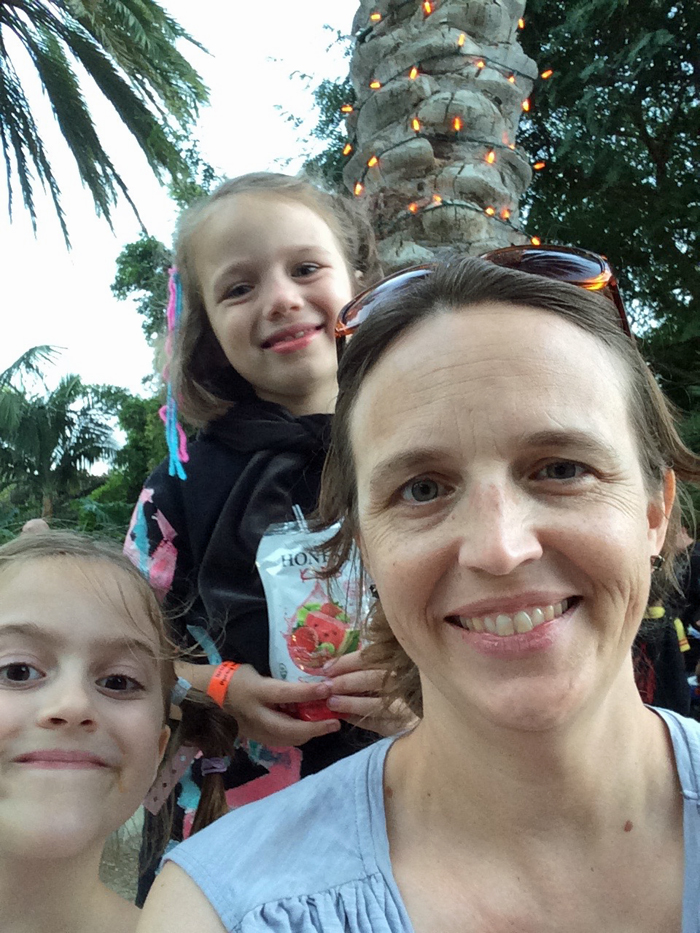 Step into your child's world.
While I grew up a Disneyland/Magic Mountain kid, my kids prefer Legoland. From a parenting stand point I agree. The park is small and clean and gives off an uber-safe vibe. Plus it's closer to home than those other parks! While I kept these three by my side this weekend, I don't worry about sending them off with a teen to go do something at the park without me.
And again, Legoland is focused on kids 2 to 12. I don't fit that demographic anyway! It's good to remember that, and be organized enough in my brain to get that.
Over and over my three little people said, "This is an amazing day. Thank you for so much for bringing us here.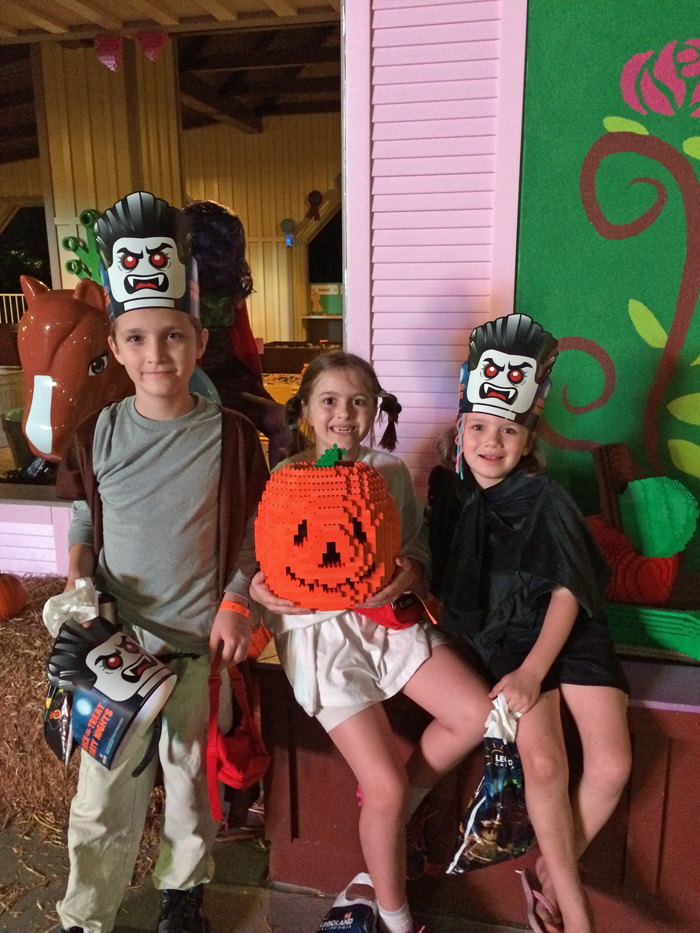 We basically shut the park down, leaving the parking lot about ten minutes before the park closed. You can tell by the looks on their faces that they were tired, but they had so much fun! And I had fun with them. It was such a great break from my ordinary!
While a day at Legoland can take me away from my to-do list, it's proven to be so worth it. They will remember this day always, so I'm really glad I was "organized enough" to make it happen.
Disclosure: We received complimentary entrance into the park. All opinions are my own. Or my kids'.