Online Shopping Tips to Save You Money
As an Amazon Associate I earn from qualifying purchases. For more details, please see our disclosure policy.
Are you looking to save time shopping from home? Consider these online shopping tips and tricks to help you save money and make purchases you can feel good about.
Christmas is coming. You know this already. Over the next month, we mamas are gonna want to get all our ducks in a row as concerns gifts, cards, decorations, parties, children's presentations, etc. (My ebook A Simpler Season can help you with that if you need a guide to organizing for the holidays without losing your mind.)
And don't forget a few new pieces for your holiday wardrobe so you feel confident heading out this season!
One strategy that has helped me immensely over the last few years is to do my shopping online. Whether for Christmas shopping, fighting the frump, or just restocking everyone's closets, online shopping saves me time and frustration running around town and, most importantly, it can help me stick to our budget.
I've learned a lot over the last few months as I've revamped my wardrobe. Where I did very little shopping over the last ten years, I've made up for lost time this fall. Since a good mall is far from my house and since I don't have that much time to devote to shopping, online shopping has helped me shop when it was convenient for me, like in my pajamas at 11pm on a Saturday night.
Online shopping is most definitely convenient, but there are a few online shopping tips you should keep in mind, particularly as Black Friday and Cyber Monday sales are just a few days away. These tips will make your shopping easier, but more importantly, they can save you money.
Online Shopping Tips to Save You Money
Shop through Ebates.
I've been shopping through Ebates since 2008. In that time I've received over $700 in cash back, rebates from online purchases I was making anyway. It's an online shopping portal that provides rebates on purchases made through participating stores.
If you're going to buy something online, check Ebates first to see if your store is listed. At the minimum you'll get at least 1% back on your purchase from participating stores, but often times, the rebate percentage can be much much higher. While it's not going to save you millions, it will add up over time and help you do your Christmas shopping or build your wardrobe on a budget.
Ebates also will track discount codes to save on your direct purchase from the participating store or alert you to special sales, so you can save even more money shopping through Ebates.
New to Ebates is the option to link your credit or debit card to your account to get cash back on in-store purchases. I'm not too sure about this option from a security perspective, so use caution if you try that out. I've not personally done so.
Check Amazon first.
You may have found these really cute shoes from 6 pm and you're already to buy them. But, wait, check Amazon first. 6pm doesn't offer free returns, but Amazon does. What? Lo and behold, not only are the shoes cheaper on Amazon and offered with free Amazon Prime shipping and free returns, but the order is fulfilled by 6pm anyway. True story.
My guess is that companies like 6pm realize they might lose the sale to Amazon, so they list their product on Amazon, even cutting themselves a little in the deal. They still capture the sale from competitors. And you can get a better deal if you're smart.
Do some price matching to see what Amazon can offer you versus the store you're shopping.
Check the brand site, too.
There are lots of brands out there that sell to a myriad of stores. The prices may vary, depending on that larger store's policies. Keep in mind that you can order directly from the brand's website.
My husband and boys like Wrangler jeans, which we've often purchased at Walmart or Target. But, it's so hard to find the right sizes for my tall, skinny boys.
Since sizing can be funny and selection sporadic at the big box stores, my husband did a little research. Turns out his favorite jeans are $19 on the Wrangler site with free shipping at $100. We can find the best selection and comparable prices going straight to the source!
Bonus: We can get 4% back if we shop Wrangler through Ebates.
Surf the clearance.
Retailers are in the process of switching out their winter lines, so likely now is the best time to get great prices on sweaters and coats, but surprisingly, this week I found a huge variety of spring-ready styles on clearance at Kohls.
I'm thrilled to have found these pieces (pictured above) to go with the latest capsule wardrobe from Get Your Pretty On. More details on that next week! I'm so excited about it. You will LOVE Alison's ideas for fighting the frump.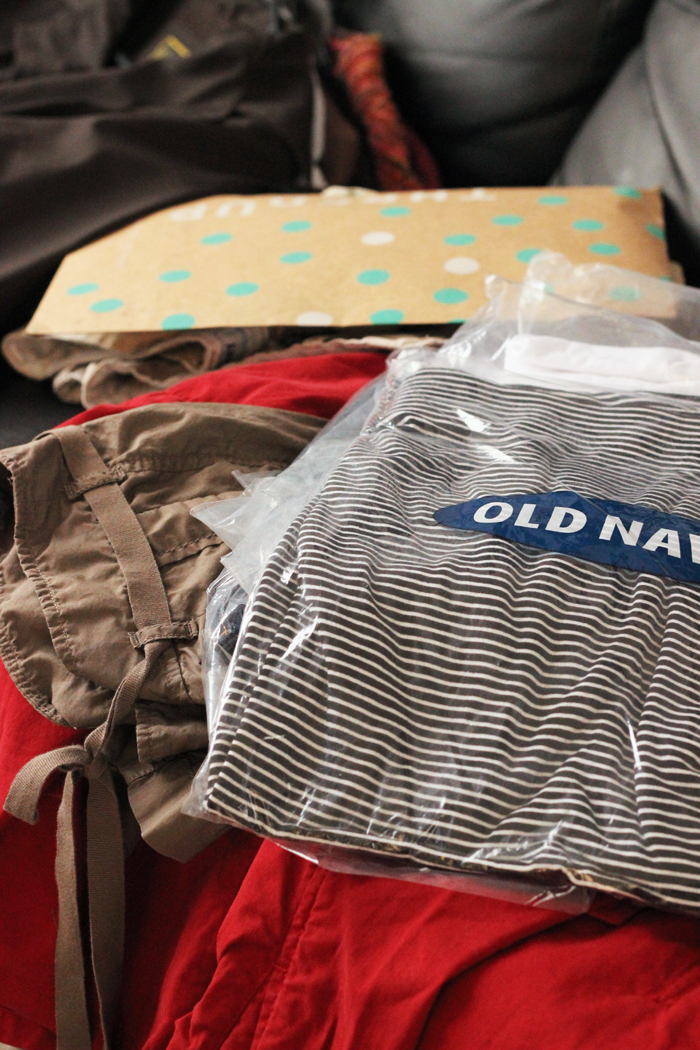 Subscribe to your favorite stores' mailing lists.
If there are stores that you prefer, sign up for their mailing lists. Usually they will send you coupon codes for discounts as well as alerts to online and in-store sales.
After some time, you'll find that there's almost always a sale, so be sure to read those emails if you're thinking of making a purchase any time soon. And don't pay full price. The sale will come in the next week or so, so hold off if you can.
And yes, emails come often and can get annoying. Employ some filters in your inbox or unsubscribe if you find the emails aren't benefitting you.
Use promotion codes and super cash.
Most online venders have additional promotions going on, such as an additional 20% off or "super cash" in the form of a coupon good for future discounts. You can find out about many of them from checking Ebates, subscribing to the store's newsletter, or simply hopping on the site.
My above purchase generated an additional $5 future discount in the form of Kohl's Cash, while I redeemed $20 in Super Cash at Old Navy earlier in the week for a sweatshirt for my son and a striped cardigan for me. All these little savings may seem like drops in a bucket, but they help our budget nonetheless. And keep us in style. 😉
Call customer service.
On more than one occasion, I have forgotten to type in the promotion code or failed to read the fine print of an offer. Instead of shrugging my shoulders, I've picked up the phone and called customer service. Each time the person on the other phone has graciously adjusted my order to reflect the lowest possible price. A few minutes of phone time reaps savings — even when the mistake is yours.
Ordering online saves me gas, time, and effort as well as a few pennies. In some cases, I return items that don't work out, but each vendor I shop from provides me with a free return label so I won't have to pay shipping when I return the items. I've learned a few tricks with online shopping. 😉
I'll be shopping for the kids this way as we prepare for our upcoming UK trip and shopping for myself as the Spring Style Challenge approaches. I love being able to shop early in the morning or after the kids go to bed at night. And I love saving money.
Confirm in-store pricing, free shipping, and free returns.
Online shopping has a lot to offer, namely we don't have to run all over town looking for stuff. But, there are some downsides. Sometimes the same item is cheaper in the store; sometimes you have to pay for shipping; sometimes returns are difficult or costly. Confirm all the parameters before you click "submit."
I've found that Nordstrom always offers free shipping and returns. Old Navy and its affiliates (Gap, Banana Republic) offer free shipping only at a certain price point, but they always have free returns. Check with your favorite stores so you know what you're getting into. In some cases, it might be better to shop in store instead of paying for hefty shipping and return fees.
Think twice about secondhand purchases.
My husband loves to buy things off Ebay. He's found some great deals on new and gently used items. But, there's always an instance every so often when the used purchase doesn't come off as it should. The same has been my experience with ThredUp. (You can read my full review here.)
While secondhand purchases can be a great way to save money, do your research, compare prices for new and refurbished, confirm the source, and remember that your mileage may vary when buying used products online. You can't try before you buy, and returns may be iffy.
These are some of the online shopping tips that I've learned through trial and error that should serve you well this season as you shop for holiday gifts or take advantage of sales to supplement your household and your family's wardrobes. I'd love to hear what strategies work well for you to save money.
What's YOUR favorite online shopping tip?