Real Life on the Road, Whitby, Newcastle, & Hadrian's Wall
As an Amazon Associate I earn from qualifying purchases. For more details, please see our disclosure policy.
Some of our family's favorite memories of our UK road trip include very real life mishaps and a day spent at Hadrian's Wall.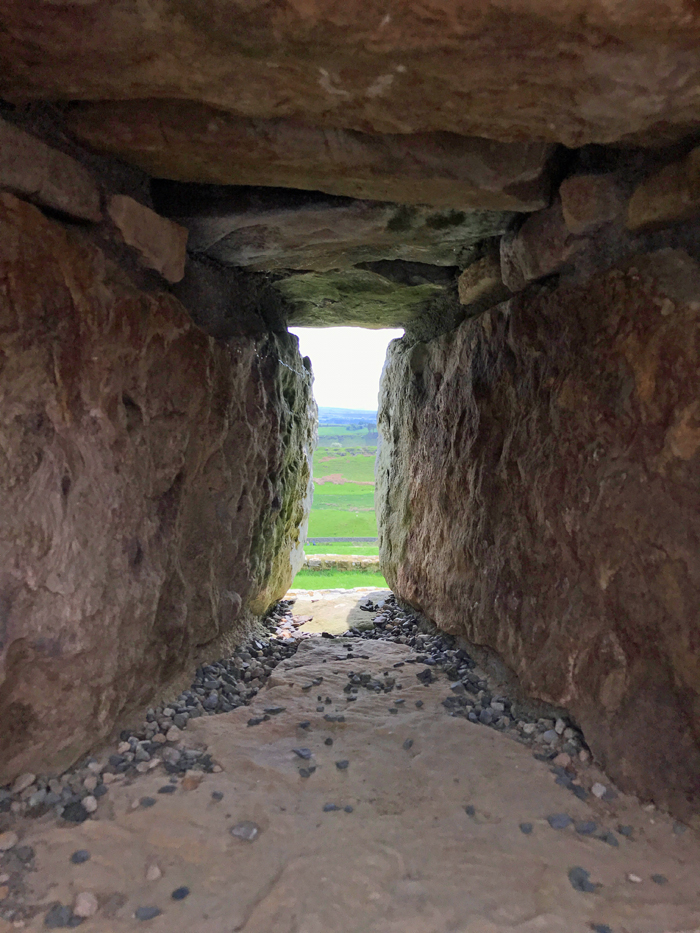 Ready to hit the road again? I think it's good that I whip out these UK road trip posts in quick succession. You'll get more of a feel for what the trip was like because we really did pack up and move from location to location rather quickly.
Since we'd never seen Great Britain outside of London, we really didn't know where we wanted to go, so the idea of choosing a few places to hunker down seemed daunting. Instead, we took the alternatively daunting approach of going all the way around in less than three weeks. While Great Britain is smaller than the state of California (a little more than half-size), there is still quite a bit to see and do, and great variation between regions. Ours was a whirlwind tour, for sure.
In retrospect, it seems silly to unpack and pack so often, but we really did get a feel for the country and have favorite places that we'd like to return to. We might not have known which were our favorites if we hadn't done this sampler tour.
Last I left you, we'd spent a few days in York, walking the town and enjoying the sights. We next hit the road for Newcastle-upon-Tyne, our home base for visiting Hadrian's Wall.
Most people were surprised to hear that we were going to Newcastle-upon-Tyne. Apparently, it's like the Fresno of the UK; you only go there if you have family. Most locals we encountered commented that "Americans don't come here." We actually heard this in lots of places, like later in Telford and Preston, cities that don't boast huge tourism.
Quite honestly, we wanted to see what life was really like, not just see the tourist spots.
That said, when we left York, we decided to make a detour through the Yorkshire Moors and stop at Whitby. We'd heard that it was a beautiful coastal town and our Visit York pass worked at some attractions there.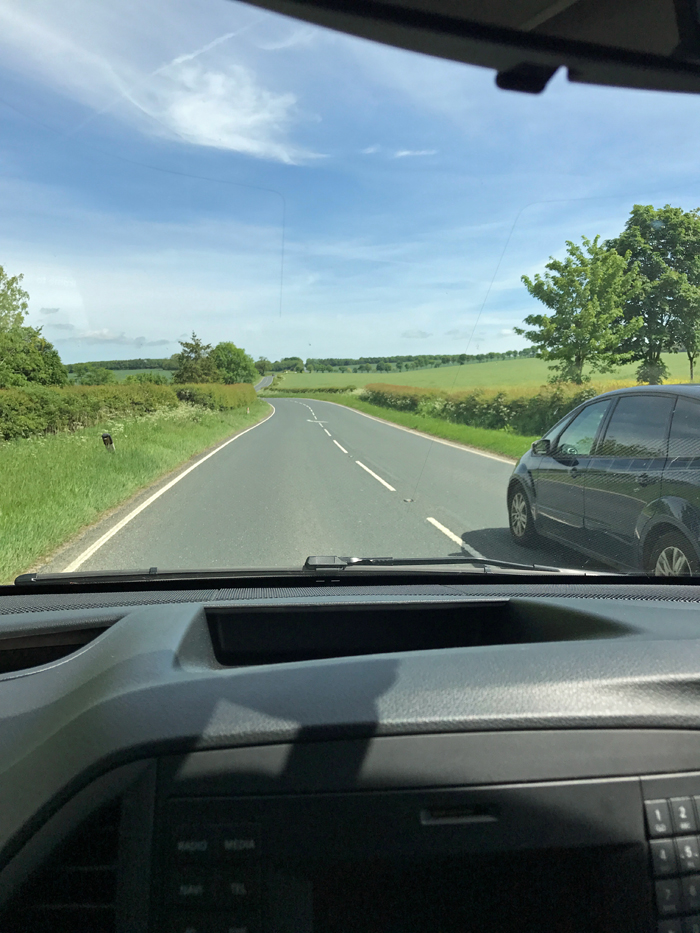 The drive was beautiful — until FishChick8 got carsick, something she's prone to do. We pulled off on the side of the road in what appeared to be a small road between fields. Turns out it was someone's driveway and they had a big delivery truck arriving shortly. A woman who looked like she'd jumped right out of a James Herriot book came down to warn us we'd need to move. Once we explained, she was super understanding. "Bless her, bless her," were her parting words for our sweet girl.
Once we got cleaned up, we headed to Whitby —  along with everyone else on the East Coast of England.
It was a school holiday, and I guess everyone else had the same idea as we did. We had hoped to park, grab some lunch, and check out Whitby Abbey, etc. Providence had other plans.
There was no parking in sight, we slogged through the trafficy town and up to the Abbey where there was parking, but…. the parking meters were broken. This was the summer when the new pound coin caused much upset with parking meters. While some people left notes in their windshields for the parking attendants, we were kinda ready to call it quits. The risk of a parking citation and the number of tourists involved in the excursion didn't seem to outweigh the benefits of the visit. I'm sure it's a beautiful town, so hopefully we can go back on a quieter day.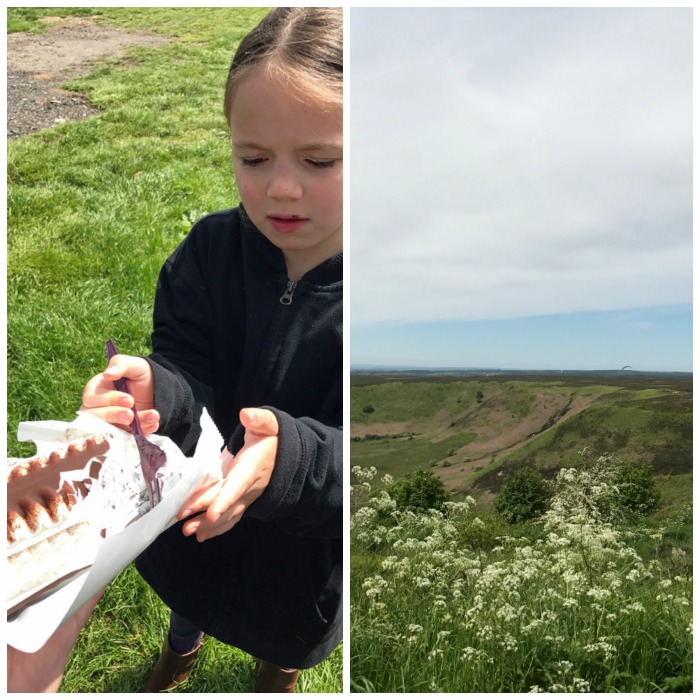 At that point I busted out snacks. One of the things that we'd had leftover from our York grocery shopping was a Viennetta ice cream. Yes, I packed it in the cooler. We ended up letting the kids eat the ice cream for lunch in the parking lot of Whitby Abbey.
There's real life for you: a bunch of kids crowded around "a pudding" with a bunch of forks.
We cut our losses in Whitby and headed for Newcastle-upon-Tyne, grabbed lunch at Pret a Manger and explored Saltwell Park. It was a beautiful day, and the park had lots to see and do, including a maze, a playground, a lake, and lots of gorgeous walking paths.
As you can tell, the weather cooperated.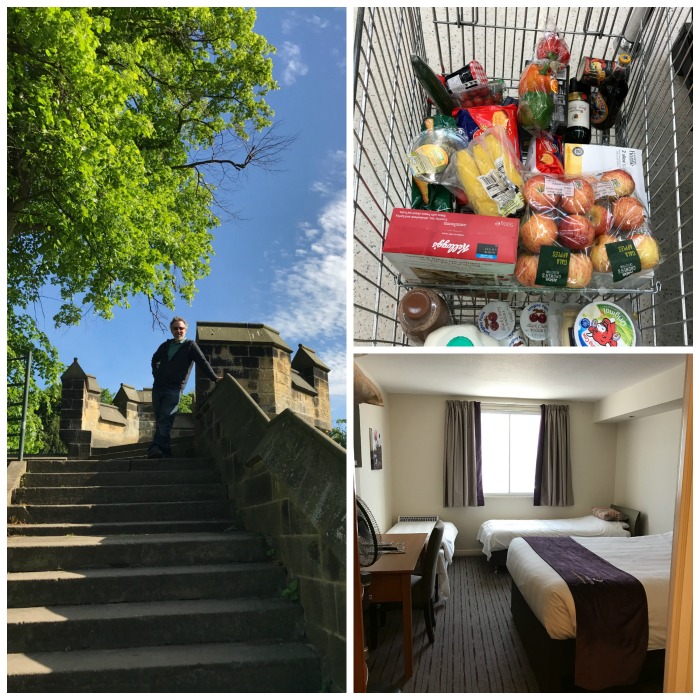 Since the sun didn't set until about 10 pm, we had plenty of time to get settled in our hotel, grab groceries, and get our bearings for the next day adventure. I also got the 411 from a lady in the hotel lobby about how to make the most of our Premier Inn stay, like getting free ice from the bar to fill our cooler. The receptionist even offered to "do a wash" for us as they don't have laundry facilities on site.
(Turns out this is a haphazard offering at Premier Inns. Some do offer to wash clothes for you, though there are no dryers. Others decidedly will not do so, no matter how much you ask.)
Despite Hotel Lobby Lady's thoughts that Hadrian's Wall wasn't much or the receptionist's never having been there even though she grew up in Newcastle-upon-Tyne, we were pretty set on the adventure.
We spent the whole of the next day exploring sites along Hadrian's Wall. This is where we ended up buying our National Trust pass — after much discussion with the site employee. His job is to help people navigate the pros and cons of the two passes (English Heritage and National Trust) and even he had a hard time figuring out the better deal for a family of 8. LOL!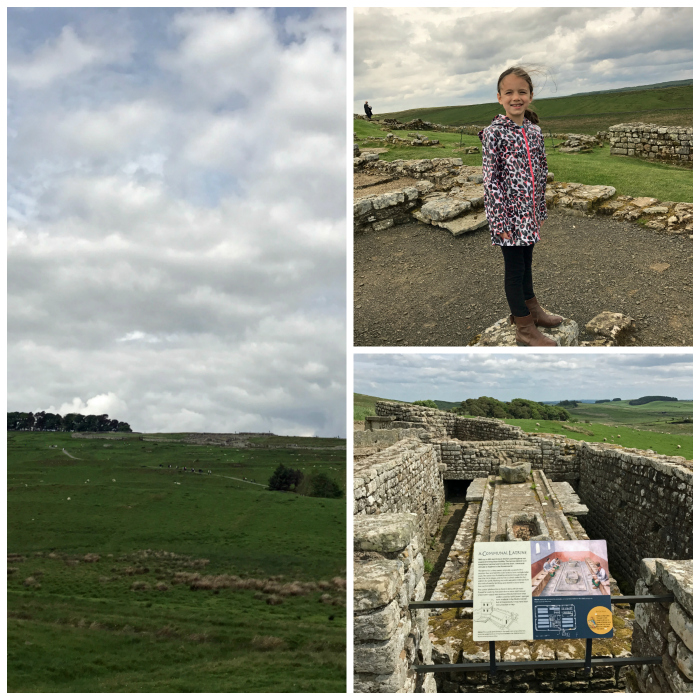 Hadrian's Wall, started in 122 AD, ran from the banks of the River Tyne to the Solway Firth and was the northern limit of the Roman Empire. It divided the Roman-occupied Britain from the lands of the northern Ancient Britons. Today parts of the wall still exist. Some people even make walking the wall ruins a bucket list item, much like hiking the Appalachian Trail.
While there are several sites to visit among the ruins of Hadrian's Wall, we focused on two: Housesteads Roman Fort and Chesters Roman Fort and Museum. Both had lots of interest, particularly if you enjoy being out of doors. It goes without saying: to go see ancient ruins, expect to be outside. Thankfully, the weather cooperated again.
Both sites have live animals as they continue to be working sheep ranches. Watch where you step!
I probably enjoyed Housesteads more because we went there first, were fresh for the day, and the ruins are up on a hillside with amazing views.
Plus, I captured a really great picture of my kids – ALL SMILING.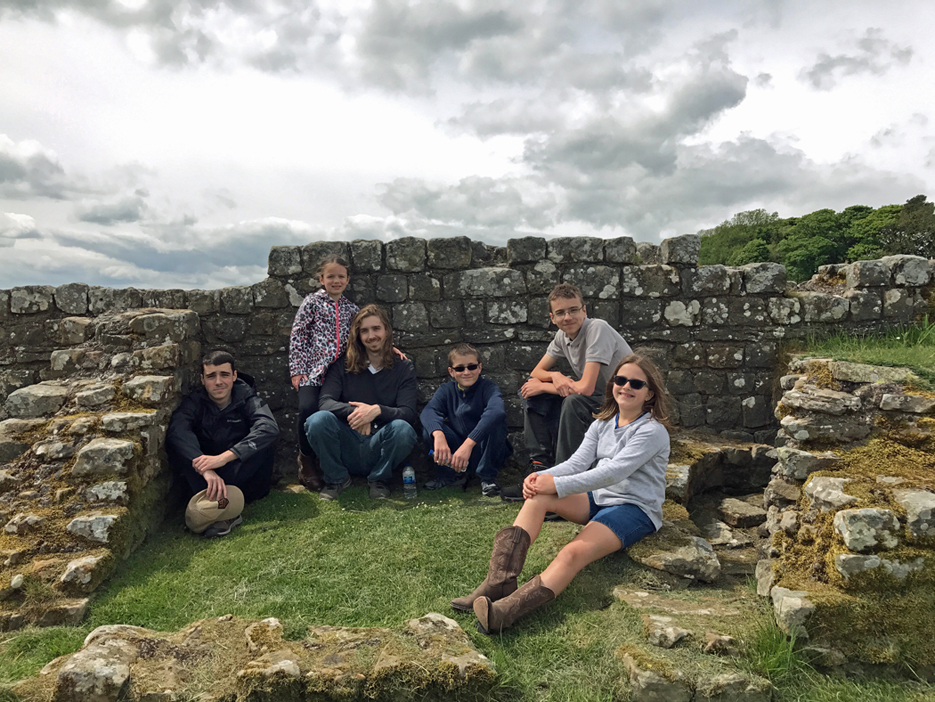 I think it was at Housesteads as well that I realize how much our family really enjoys being outdoors, which is odd, because we spend most of our home days inside. It's something I've been trying to figure out how to remedy now that we're back home. Some of our best days in England were those spent hiking and exploring nature.
That night while we were waiting for our dinner reservation, we stumbled upon Newcastle Cathedral, or The Cathedral Church of St Nicolas. It's not ginormous. I learned in York that it's called a cathedral not because of its size, but because it contains a cathedra, or a bishop's seat (not pictured). Who knew?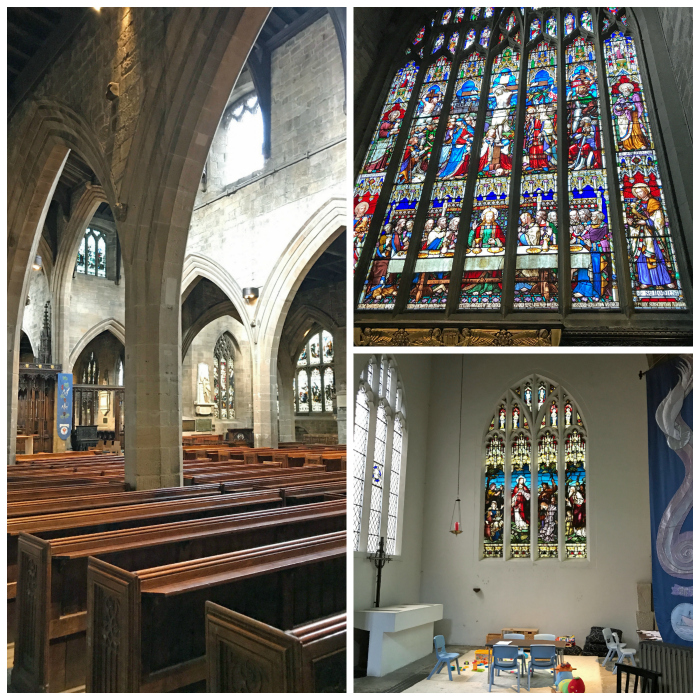 From what I could tell walking around, and from the fact that Newcastle-upon-Tyne is not a destination location, this particular church is not a huge tourist attraction, but I found it fascinating, particularly since my faith tradition is that of non-denominational American Protestant. We don't see much in the way of pews and stained glass.
I loved the little children's area in one section of the cathedral!
We enjoyed a great dinner at Zizzi in Newcastle-upon-Tyne and explored the downtown a little, aka got lost trying to find the bridge that folds over.
Carsickness, broken parking meters, and not finding the destination you were looking for where definitely a part of this section of our trip, and really reflective of real life. These things happen. If we don't allow them to mar the experience, they add humor to our story.
That's real life on the road.