Thanksgiving Fun (& a FREE Printable)
As an Amazon Associate I earn from qualifying purchases. For more details, please see our disclosure policy.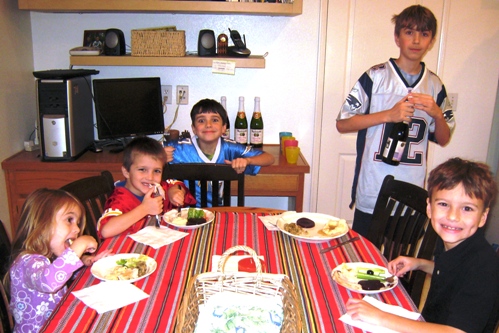 Thanksgiving is probably the second most favorite holiday in our family. Christmas is first, of course. But, after that Turkey Day tops the list. Mainly for the food.
My children are hobbits. Which means they love to eat. Which means that Turkey Day with all their favorite foods tops the list.
It's also the day that we see family, relax, watch movies, and count our blessings. That's how I celebrated Thanksgiving as a child. It's how my children celebrate Thanksgiving. And, Lord willing, it's how my children's children will celebrate Thanksgiving.
And while you, like I, may have been pinning and bookmarking all kinds of cutesy fun to do on Thanksgiving, you, like I, may not be able to keep up with all your best laid plans. I know I struggle with this. Major Big Time.
I dream big dreams of fun stuff to do with the kids and then something gets in the way.
So this year, with my sister's help, I put together a Thanksgiving fun booklet. Yes, yes, I did.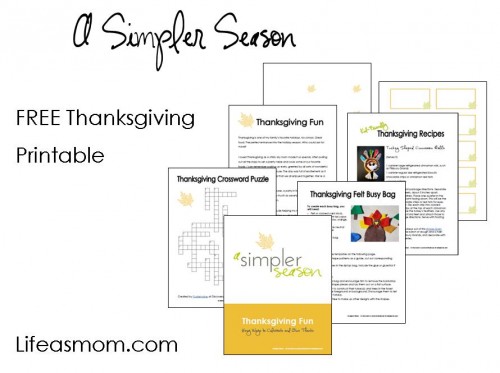 This week's FREE download is all about enjoying Thanksgiving Day with your children. It includes
Kid-friendly recipes to add to your holiday menu
Directions to two fun, edible crafts
Printable place cards for the kids to decorate
Printable menu cards for your dinner table
Printable activity sheets for kids to complete when they get antsy
A template and directions for a felt busy bag activity for toddlers
A list of family friendly movies and games to add to your weekend fun
If you already have your I'm Thankful Lists printed off, you're pretty much good to go for this Thanksgiving Holiday.
Grab your copy of Thanksgiving Fun: Easy Ways to Celebrate and Give Thanks. Download it today – for FREE. And if you like it, share this post with a friend. We need to help each other celebrate a simpler season.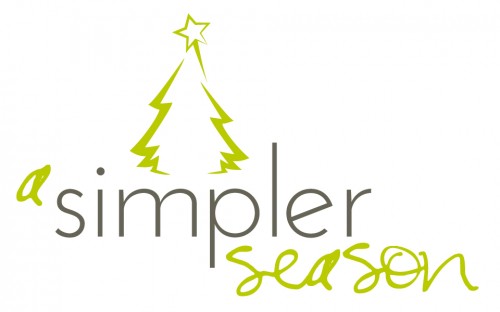 Want to plan a fabulous holiday? A Simpler Season holds almost everything you need to do just that.
This guide to planning the winter holidays provides creative ideas , time-saving tips, and budget-minded inspiration for making the most of Thanksgiving, Christmas, and New Year's. With the busy family in mind, I've provided recipes, to-do lists, children's activity sheets, planning pages, gift ideas, and step-by-step tutorials for creating homemade gifts. Grab your copy today.
What's your favorite part about Thanksgiving?
You can subscribe for free emails or get Life as MOM in your feed reader each morning, so you don't miss a thing.