To Be More Joyful: Simplify Your Life
As an Amazon Associate I earn from qualifying purchases. For more details, please see our disclosure policy.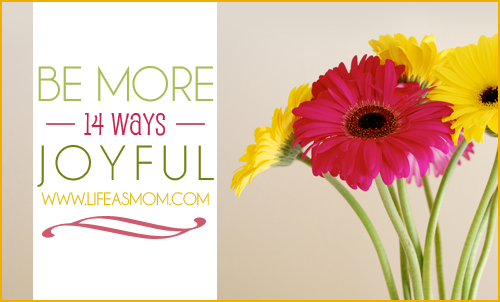 One way to enjoy your family life more is to simplify. Basically, you're going to find out what you have to do and then determine the easiest way to get it done.
This can mean different things to different people. For my friend with a new baby, she had to find "the bottom line." She realized her limitations and found her "must do" for the day. She knew she would "feel human" if she got a shower and blew dry her hair every morning. While a shower doesn't seem like such a big accomplishment, it's one way to simplify her life and lower her expectations of herself for a season.
For my friend homeschooling different aged children, putting her kids on the same history and literature curriculum is going to simplify her life immensely come next school year. She won't be teaching American History to one kid while she's talking about the Middle Ages with the other.
For you, it might be something different. Maybe you'll take a vacation from couponing and chasing around to many different stores every week; maybe you'll ask your husband to handle the carpool for a season; maybe you'll say, "No," to being team mom next season.
Find ways to make your life simpler and easier, and you will be one happier mama.
Last year I wrote a series, entitled 50 Ways to Streamline Your Life. Many, if not all, of my suggestions fall under the "simplify your life" category. Many of them are simple things that you probably already know.
The 50 ways are listed here with links back to bigger explanations of each. You may already be doing some of them. But, I would hazard to guess that working in a few more will make life even more enjoyable.
Ask God for help.
Start going to bed earlier.
Lower your standards.
Get moving.
Use the penicillin method for decluttering.
Find the quickest route from messy to clean.
Learn to say NO.
What do you do to make life a little simpler at your house?