Traveling in the UK: How We Got Around
As an Amazon Associate I earn from qualifying purchases. For more details, please see our disclosure policy.
Looking forward to traveling in the UK? Wondering how to get from place to place? Here's how we got around as a family of 8 for a month in Great Britain.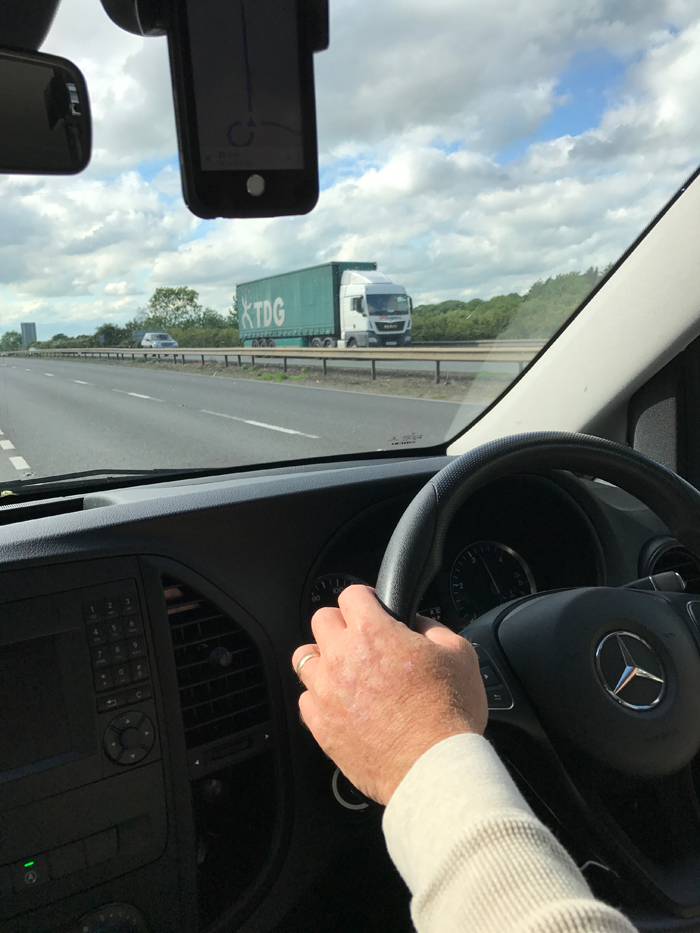 Those who've been parents more than three days know that travel with kids entails a fair amount of planning and logistics. Heck! Going to the grocery store is often a logistical nightmare. How in the world do you transport kids in another country and culture?
Three years ago at this time, I was in the midst of planning our first family trip to Europe. Unbelievable to realize that we've been there and back again, TWICE now. Each time, we flew in and out of London, via Los Angeles, and spent a month abroad.
Fun fact: our family has spent 2 out of the last 34 months overseas. #nerdalert
Each time we also took trains, rented a car, and used public transport. We learned a lot the first time and put those lessons to work in planning our second trip. Today, I'm sharing what we did and how it paid off.
If you're interested in reading about our first European adventure, which included London and western France,
head here
. If you just want to catch up on our adventures in Great Britain,
head here
.
Traveling in the UK: How We Got Around
Here's a quick review of all the modes of transport we used in the UK, including planes, trains, and automobiles:
Planes: A review of Virgin Atlantic
As I mentioned, we've traveled overseas twice in the recent past and taken Virgin Atlantic flights both times. In advance of each trip, I subscribed to emails from a number of airlines, including British Airways, Aer Lingus, and Virgin Atlantic in order to keep an eye on their fares and sales. I also consulted with a friend whose husband is an airplane mechanic to figure out safety records and who was reputable. Those three rose to the top.
When I was doing my research, airline sales sites did not cater to parties of 8 for easy online ticket purchases. Turns out that buying directly from the airline's site is often the cheapest route anyway. There may be sites that now make large family booking easier, but I found going through the airline site to be great.
We chose Virgin Atlantic in 2014 because it was the cheapest flight out of Los Angeles. LA is a 2-3 hour drive from our house, but the money savings was huge as compared to flying with British out of San Diego. We paid $8,180.20 for 8 tickets in 2014.
We chose Virgin Atlantic again in 2017 because it hadn't been terrible the first time and tickets were a screaming deal! In fact, people at the airline couldn't believe what good fares we got — $4,968.48 — almost half what we paid for the exact same flight back in 2014! I'm still not sure how I managed that.
Due to poor seating choices on our first trip and because we got SUCH a great deal this time, we chose to reserve our seats in advance, paying an extra $576 for 8 people round trip.
How was our flight? Well, flights from LA to London are LONG, which also could mean unpleasant. Most airlines have you crammed into itty-bitty seats for 10 to 13 hours. That is just par for the course.
How was our time on Virgin Atlantic? About the same in terms of comfort. You have to pay more for more legroom. That's just how these things work nowadays.
Virgin Atlantic staff was super helpful, very courteous, and super accommodating of special diets, kid-friendly meals, etc. I had forgotten to request a nut-safe meal in advance, but the stewards did their best to accommodate us.
It is very much a British company, right down to the meal planning. Each homebound flight included "tea," complete with amazing biscuits (aka cookies). We had to specify "lemonade" for lemon-lime soda; they don't serve "old fashioned lemonade". They also don't serve milk, except in itty bitty tubes designed to add to your tea. However, since I had packed dry cereal for little miss, they gave us handfuls and handfuls of milk tubes to accommodate her.
The flight was as good as it could have been, as was the cost.
Roundtrip airline tickets from Los Angeles to London Heathrow: $4,968.48
Reserved seating: $576.00
Transport to airport for 8 people: $500.00
Total cost for 8 people: $6044.48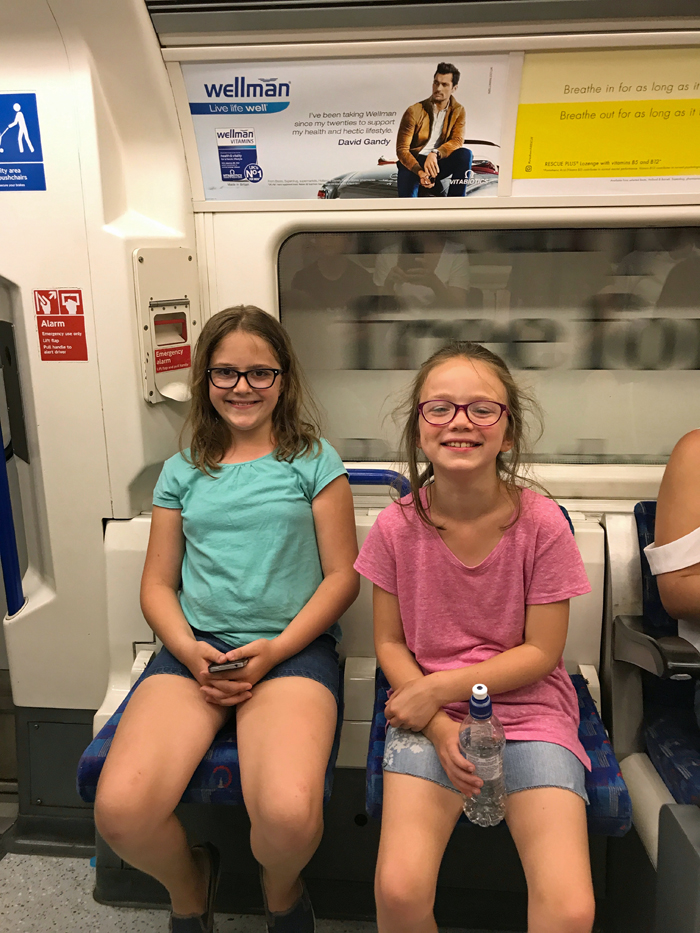 in London: the London Underground via Oyster Card
Once we arrived in London, our mode of transport was the London Underground, aka the tube. Many people think that a shuttle from Heathrow is the best option, but you'll often pay a pretty penny for the shuttle and then again for the cab from that transit center. Since our hotels were nowhere near the transit center and we'd have needed two cabs, it made more sense for us to take the tube.
The tube is super simple to navigate and Heathrow Airport is the "end of the line", meaning it won't already be jam packed when you hop on. We priced out our options and decided that the money savings was worth the hassle of carting 8 people, 8 suitcases, and 5 carry-ons via the subway. (We also chose our flights based on when we'd arrive and when we'd have to get to the airport, so we could avoid high traffic times.)
Since we'd done it before, this trip was super smooth. Thanks to the folks at London Toolkit, I had updated information about our options, too.
Each time we've purchased Oyster Cards, refillable passes to get you around town via the bus and subway systems. You can reload the cards when they get low and not have to buy tickets every time you want to take the subway.
Children under 11 travel free on the tube when accompanied by an adult, so our girls traveled free. Everyone 16 and above is considered an adult, so we purchased 4 adult Oyster Cards ($32.61 each) for FishPapa, our two oldest kids, and me. Our two middle guys, ages 13 and 15, were considered "youth visitors," so we were able to get half-priced cards with a smaller daily cap for them ($19.57). You have to purchase these cards in person, rather than from an automatic kiosk.
We spent about ten days in London all told and had to top up the cards a few times. At the end of the line, we were able to deactivate our cards and get any unused funds back off them, including the 5 pound deposit for each card.
Oyster cards for 4 adults and 2 youth visitors, plus topping up: $175.99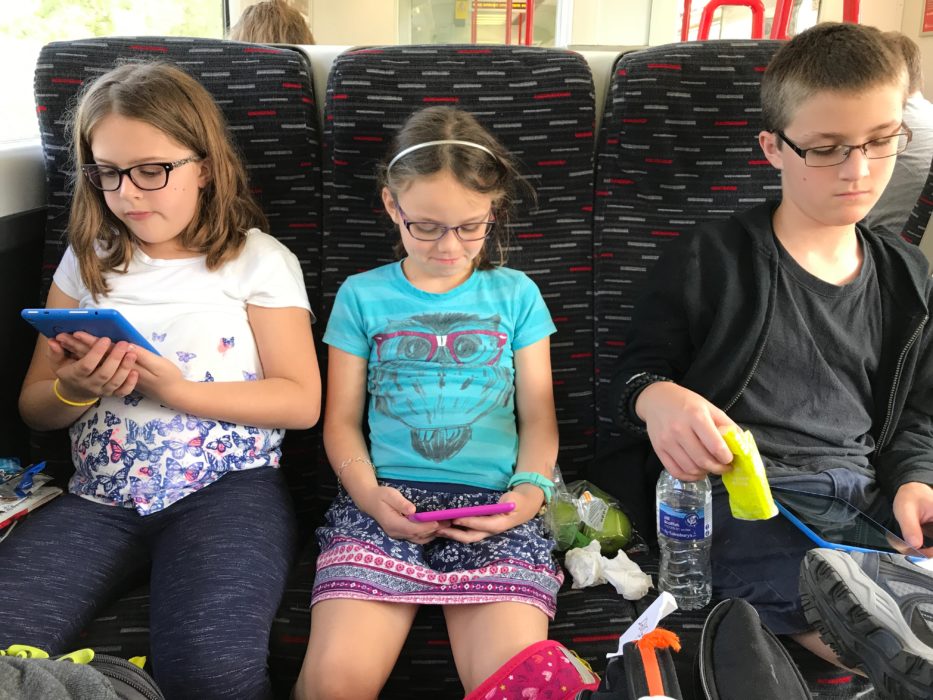 Trains: Virgin Trains and National Rail Service
For this trip, we stayed on the island of Great Britain, doing most of our traveling by car. I had looked into doing the entire trip by train, but in the end we decided that it was better to have a car, even if driving on the left side seemed intimidating.
However, in order to avoid the extra charges involved in driving in London and to avoid THE TRAFFIC of London, we took a train from London to Cambridge and picked up our rental car in a quiet little neighborhood instead of the craziness that is Heathrow.
We'd taken the train out of London a few times before, once to go to Harry Potter and once to go to Paris, so it wasn't a completely foreign practice to us. The Man in Seat 61 is super helpful in giving you tips on UK train travel.
I booked our tickets through Virgin Trains, choosing to go out of Liverpool Street Station instead of King's Cross. The price difference was huge and since we were taking the tube either way, it didn't really matter.
The men in my family who carried the bulk of our luggage might have different opinions about that, but it all worked out! 😉 That said, I would choose my hotels and stations a tad more carefully next time, just to avoid long walks and/or too many transfers. It was all fine! And next time the girls will be even bigger and able to carry all their own stuff.
Total cost for 8 people from London to Cambridge and back: $92.44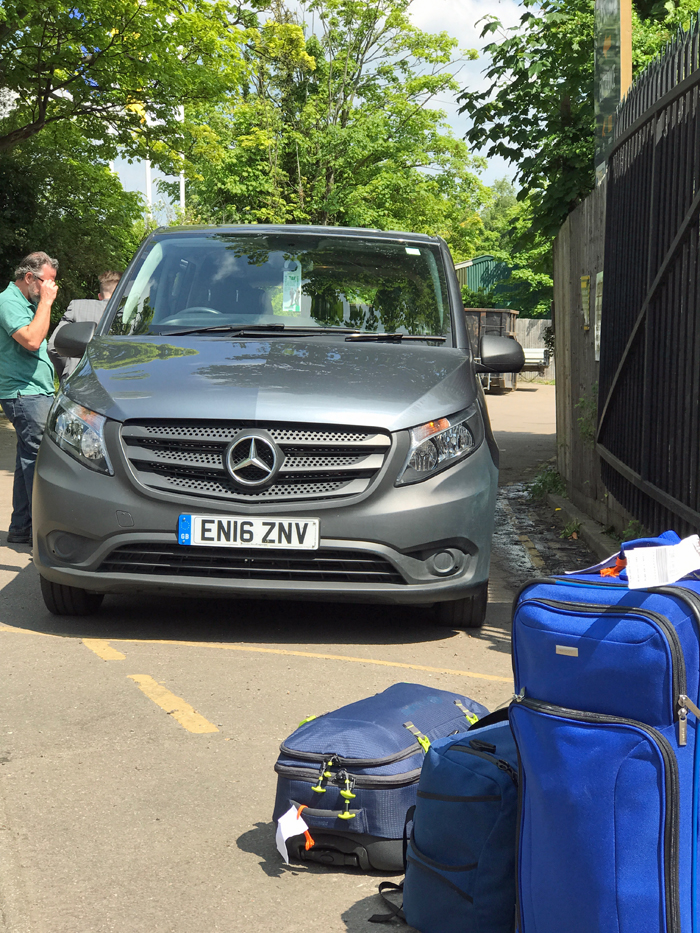 Automobiles: Alamo/Enterprise
In France, we had a disastrous rental situation with Avis/Budget. After that debacle, I swore I would never use them again. I'm so glad that Expedia had a great deal on a 21-day rental of a 9-passenger "people mover" through Alamo/Enterprise.
And yes, it was called a people mover.
We initially had some confusion in picking up the vehicle. They were supposed to pick us up at the train station, but there was a miscommunication in a meeting place, so we ended up taking a taxi to the rental place, to the tune of an extra 15 pounds.
BUT, the staff at Alamo/Enterprise were super friendly and helpful, and had even given us a complimentary upgrade to a Mercedes when they saw that the Ford we had reserved was too small for 8 people to be comfortably moved.
That Mercedes was the bomb! It was a great, compact vehicle that could still hold all the FishFam without too much squishing. We had plenty of room for our stuff, and a third seat in the front row provided extra space for people with carsickness to feel comfortable.
Except for the snafu at the station, picking up the car in Cambridge instead of London worked like a charm! Props to this guy who did something similar, picking up his car in Brighton. (He's also got some great tips and links for Americans driving in the UK and acclimating to right-hand drive, etc.)
FishPapa was very quickly a pro at driving on the left-side and parking in itty-bitty parking spaces. He swapped out the sim card in his phone for a UK card which allowed us plenty of GPS-juice for our trip. The UK version of Google Maps is awesome, telling us exactly when to leave a round-point, change lanes, etc.
Initially we were worried about extra parking fees, but we were almost always able to find free parking, except in Bath, where many/most of the hotels don't provide parking.
We had a great time driving throughout Great Britain, and can't wait to do it some more! All told we traveled more than 1400 miles by car. Whew! We got around!
21-day rental of a 9-passenger mini-van: $1332.71
fuel for 21 days: $302.92
3 days parking in Bath: $21.71
Total vehicle costs: $1657.34
So, there you go, all the ways that we got around while traveling in the UK as a family. Transportation is one of the biggest expenses on a trip like this, especially with 8 people. We feel really good about the choices we made in maximizing our experience without spending more than we needed to.
Airfare: $6044.48
Underground: $175.99
Train $92.44
Car: 1657.34
Total spent on traveling in the UK: 7,970.25
For clarity, remember that your mileage may vary. Our end results were dependent on the exchange rate at the time our purchases were made. But, I'm thrilled that our total expenses on all transportation costs were even LESS than our plane tickets three years ago.
We've always traveled when the dollar was weak, so it's kinda nice to have the shoe on the other foot!
What's been YOUR experience traveling in the UK?