Zone Defense Check-in: The Laundry and Linen Cupboard
As an Amazon Associate I earn from qualifying purchases. For more details, please see our disclosure policy.
On Zone Defense in March, we organized the linen cupboard and laundry areas.
So, here we are at our monthly Zone Defense check-in. If you're just tuning in, you know that we're facing off against clutter and disorganization. Time to get this place ship-shape, folks.
A few weeks ago I explained my goals for getting a laundry game plan in action. We're settling in on a system that is working for our family in this season of life. My kids are old enough that they can take some responsibility for their own clothes. The kids do their laundry here.
I decided about a year ago that I wanted the laundry room to be a place where you went to get things clean. Not a place that constantly needed to be cleaned. I set up a laundry schedule for the fam and instructed the kids on how to wash their own clothes. Finally a laundry system that worked and didn't leave the laundry room a disaster zone.
You wouldn't know this based on the before pics I took.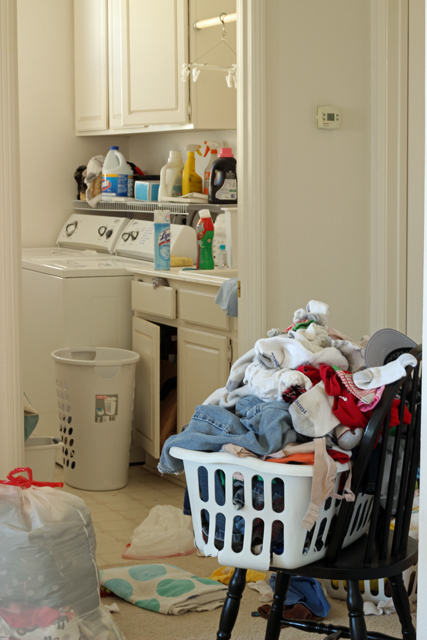 It was a basic disaster. Sorry that I don't have a wide angle lens to catch it in all its glory. But, a few weekends away, folks unpacking every which way, and a few weeks of generally falling off my game resulted in a mess.
The linen closet, which I clean once a year in March — ha! — was no better.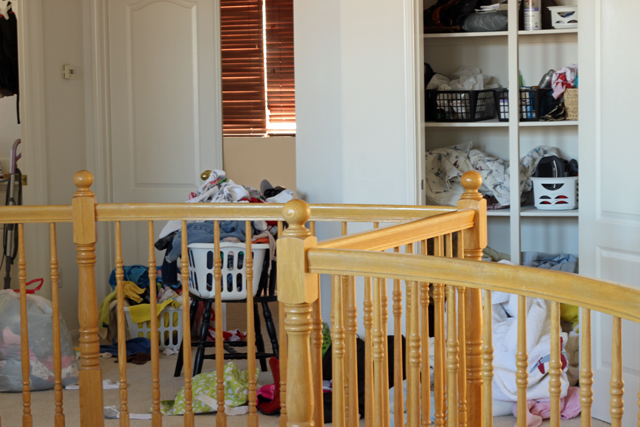 We have a spiral staircase/turret that our upper hallway raps around. This is the view from the other side.
And from closer up: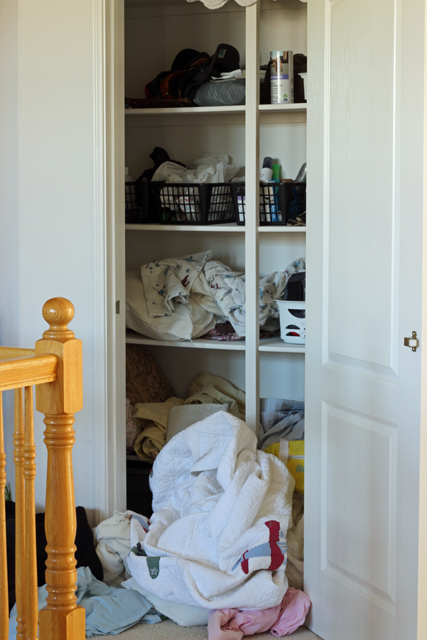 I emptied out the closet completely. There was all kind of interesting things in there, but mostly linens.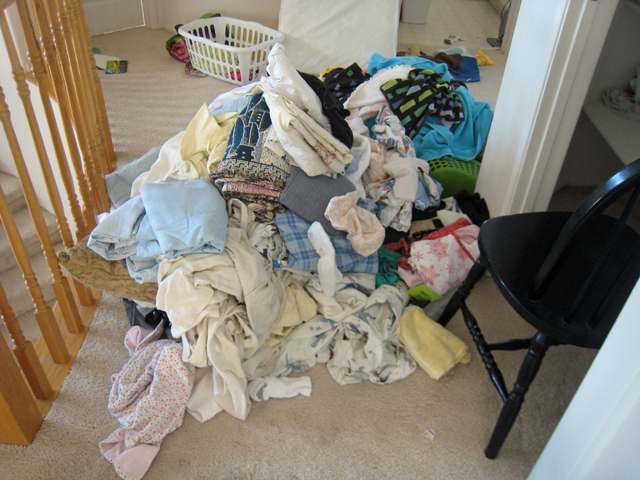 I have no idea how everything got unfolded, but that's what happens when you turn a blind eye to children making their own beds. I purged a lot of things. And refolded a lot of sheets.
We keep a spare set of sheets for each bed in case of emergencies, like the stomach flu. But I realize now that the chances of all eight of us having a bad stomach flu at the same time is probably ridiculous. I could unload some sheets.
I also told the kids that when they change sheets, they should wash and reuse the same set. If they don't, if they use a fresh set and leave a clean set to be folded, I will make them watch my video on how to fold a fitted sheet five million times. And they will have to fold the sheets.
Can I get an amen?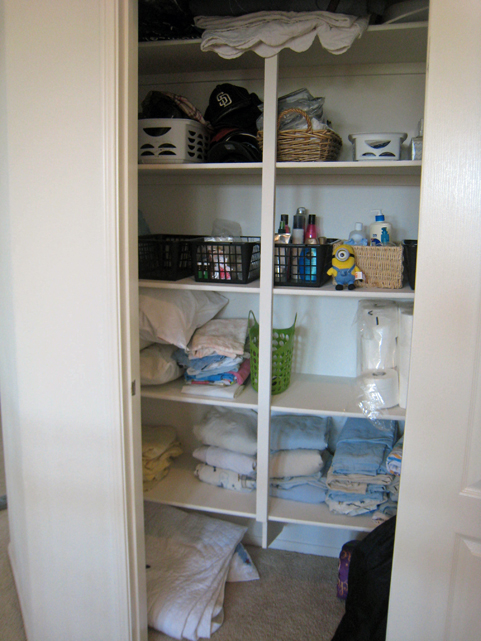 That looks better, doesn't it?! The Minion got to stay.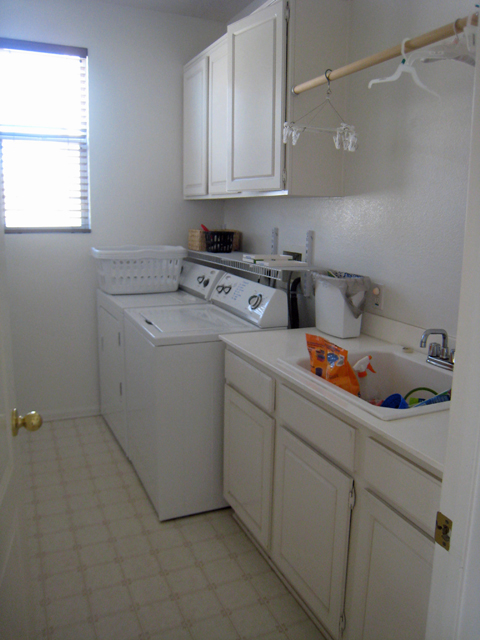 I removed everything from the laundry room that I don't use and consolidated the cleaners in the sink. I never use the sink. I don't know why. But, it holds the cleaning supplies.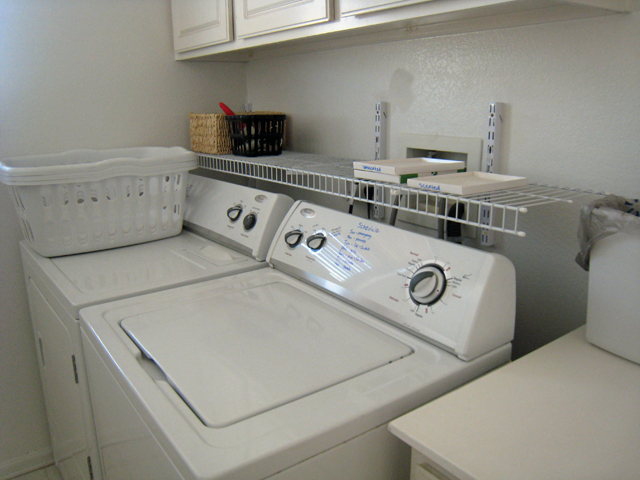 Last year I labeled the washer and dryer with use instructions. This month I added the laundry schedule, so we don't forget whose day is whose.
Another new change is that I stopped buying liquid laundry detergent. Back in November when I participated in the Ultimate Healthy Living Bundle, I got two free boxes of Dizolve laundry strips.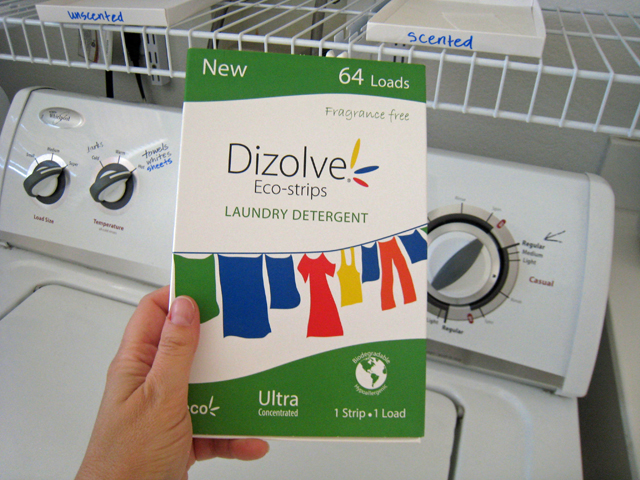 These things are awesome. One strip per load and there's no chance of any kids spilling. There's less hauling involved and these strips can easily be packed for travel.
(This is not a sponsored ad in any way. I just really like the product and have since purchased more.)
Since the laundry room cupboards are also my holding spot for clothes to donate, it was time to clear out those areas.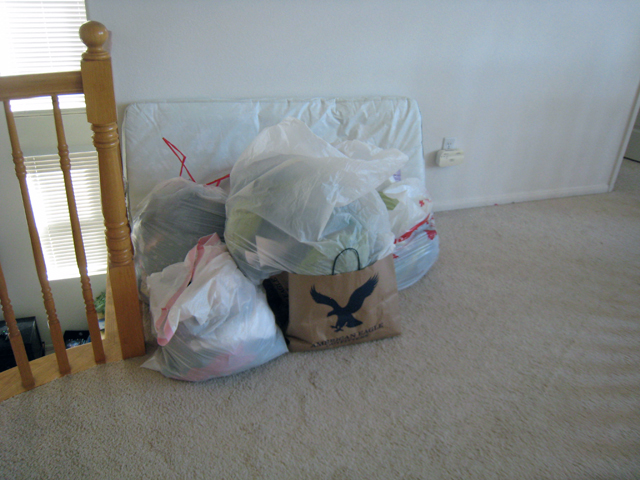 Combined with all the excess from the linen cupboard, there's a fair amount of stuff to send off to a happier home.
It feels great to have these spaces a little better organized.
How are things in YOUR linen cupboard and laundry room?
Tell us in the comments and feel free to leave a link if you've blogged, facebooked, or instagrammed your progress. Hashtag #zonedefense if you like. Read the Zone Defense archives if you're just now joining us.
In April we'll be organizing the living and entertainment areas of our homes. Get ready to organize and deep clean the living areas, entertainment areas, and the stuff that takes up space there. (Oh dear! That means I have to deal with all those movies and school supplies, doesn't it?!)
Related Posts:
Survive the Laundry Pile
A No-Fuss Guide to Laundry Tools and Products