FREE (Boy Friendly) Valentine's Printable
As an Amazon Associate I earn from qualifying purchases. For more details, please see our disclosure policy.
Valentine's Day doesn't have to be all flowers and pink. Print out a batch of these boy-friendly Valentine's cards that feature a Super Mario twist.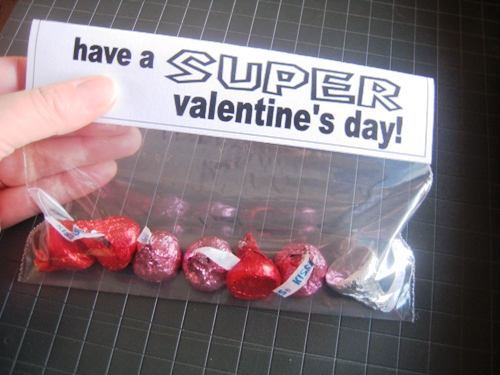 Over the weekend a few of my people and I were strolling through the Valentine section of a local store. FishBoy9 started to groan. "I hate Valentine's Day. It's so ewwww."
What followed was a very enlightening conversation. It wasn't the chocolates and candies that he objected to; it was the mushy stuff. "I can't stand all that lovey dovey stuff."
Since I was planning to make some fun Valentine's printables for our own little celebration with friends later this week, I decided to take his sentiments to heart. There are plenty of girly Valentine items about. This here project is boy-friendly. Savvy folks will recognize the font as Super Mario inspired. My boys are super crazy about those games.
Here's how to put together your own little Valentine treat bags that won't make boys go "ewww." Plain and simple, too, for you minimalists out there.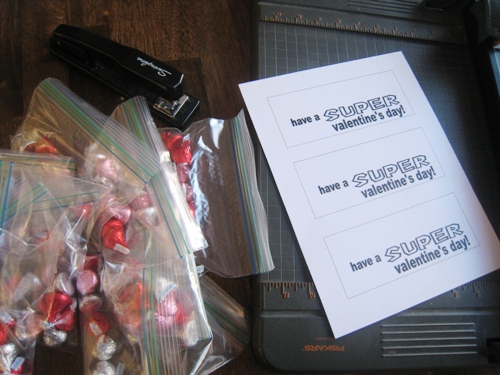 Boy-Friendly SUPER Valentine's Treats
candy or other fun treat
snack bags
cardstock
printer
scissors or paper cutter
stapler and staples
Divide the candy among your snack bags and seal them shut.
This SUPER Valentine printable has three cards to print out per page. Print as many as you need onto cardstock and cut them out. I liked leaving a small border of white around the edge.
Fold each card in half lengthwise and insert the top of the snack bag into the opening. Staple the card to the bag.
Do you do special Valentine's at your house?