There are so many different doodahs and gadgets out in the world, it's hard to know what you really need. I've narrowed this school supplies list to include our favorites for homeschool.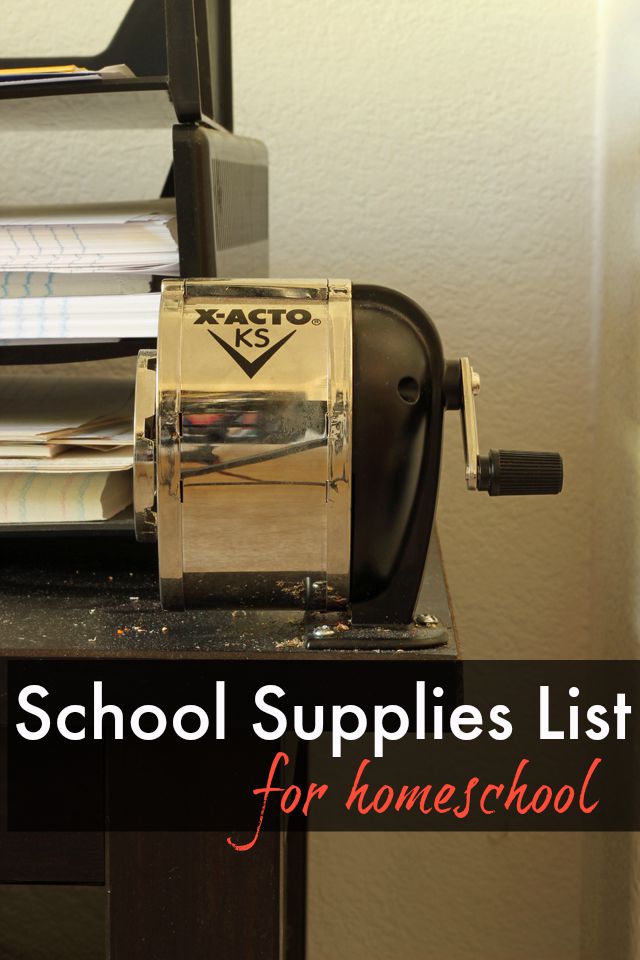 It's hard to believe that we just finished our fifth week of school. Crazy to think about when some years we don't even start until after Labor Day. Some years it works well to start late, and others it seems to be almost serendipitous to start early.
I never planned on having health issues this year, but our early start has given us a cushion — and a strong one at that. I'm thankful for that fire to start crazily on July 27th!
This is my 14th year homeschooling. I hope that I've learned a few things. Well, yes, I know I have. I'm also continuing learning and refining how we do things. My youngest pupil has eleven years more to go. I need stamina to continue, that is for sure. I've got lots of time to improve and make my school supplies list work for me.
One of the things that I've learned over the years is that you don't really need a ton of gadgets and doodahs to supply your homeschool. This school supplies list that I'm sharing today is pretty simple, not terribly expensive, and won through much blood, sweat, and tears.
Also an innumerable number of junky electric pencil sharpeners.
School Supplies List for Homeschool
These are items that we use almost on a regular basis to encourage learning at home and to help the mother stay calm and with-it. (Both are important for a homeschool!)
Homeschool Assignment Binders
By far and away our homeschool assignment binders are the best things to keep me/us/them on track this year. I don't think we could have weathered the weeks of August very well when I was messaging doctors, waiting on hold with insurance companies, or getting blood tests.
The fact that I've got every assignment written down for every kid for the whole year is saving my bacon, people. The older kids know exactly what to do next while I know where to pick up the pieces with the littles ones.
Post-it Notes
Post-it Notes are working very well for us as a communication tool and the occasional bookmark. Once I go over the day's assignments in a child's binder, I write down on a 3-inch Post-it the things that he is missing or what he needs to do tomorrow. They are an easy at-a-glance communication tool.
We also use them in all shapes and sizes to mark pages in textbooks, novels, and assignment pages. What did we do before sticky notes?!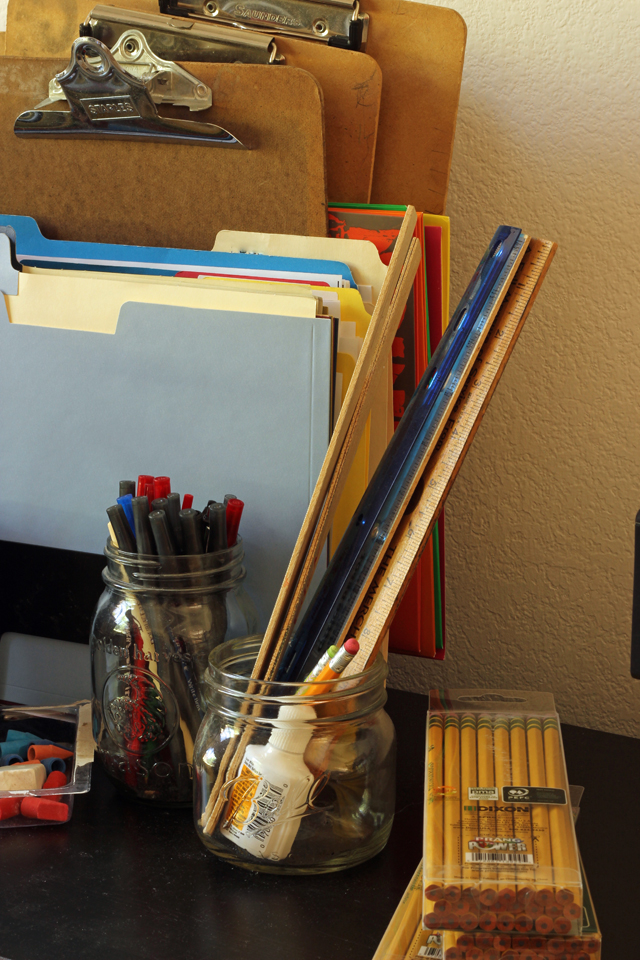 Basic Office Supplies
What are office supplies doing on a school supplies list? A lot of what we use is the same as you'd use in your office, so look for sales all year round, not just back to school.
Lots of pencils – I finally learned that Ticonderoga was the only way to go
White erasers because they don't smear as well as those end of the pencil ones, out of duress.
Clipboards for on-the-go writing
Expandable folders for storing school records
Wite-Out for when Mom messes up in ink
More rulers than one could ever use in a lifetime
Pens for mom writing
copious amounts of copy paper and ruled paper
Old School Pencil Sharpener
I don't know how many electric pencil sharpeners that we've burned through over the years. I lost count at three. Or was it four? At the end of last year, we ordered the old school kind that you attach to a wall or table. This baby is going strong.
Art Supplies
After years of stocking stuff and then not using it, I hope I'm getting wiser. I didn't go too crazy with the art supplies:
Math Manipulatives
We've been using most of the same set of math manipulatives for 14 years. Not only do they make math more fun, but the kids have always liked to play with them, just because, thus the repurchase of the teddy bear counters. We no longer have a full set of linking cubes and someone stole all the tan pattern blocks for nefarious purposes (I'm sure).
But, we'll just squeak by through 2nd and 3rd grades with what we have. Two years after I bought a new balance, we found the missing piece to the old one. I'm sure that in five years linking cubes and tan parallelograms will start seeping out of the walls.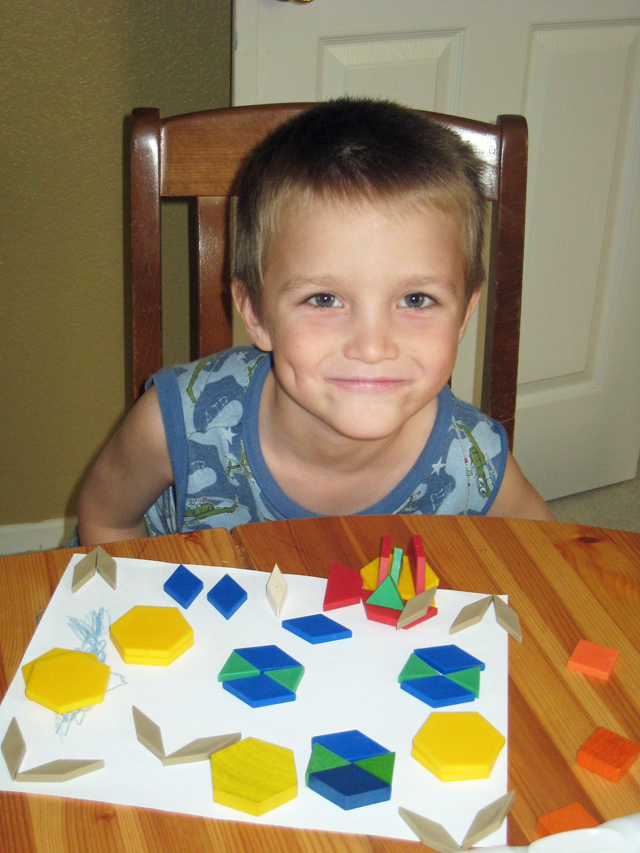 Library Card
I have saved so much money using the library for our school books. I buy the regularly used curriculum books, and this year I bought the teens all they needed for history and literature. Most of our pleasure reading, history reading, and read alouds come from the library.
The flip side of this arrangement is that the library is not entirely free. Thank you, good tax payers. Additionally, we pay a fair amount of money in fines every year. $81.04 in 2014 alone. Ahem. I'm sure we got our $81.04-worth, but still.
I've now programmed into my phone library due dates. Oy.
However, digital library books automatically disappear when your checkout time is expired. As our local library's OverDrive collection expands, my library fines will diminish. Hallelujah. Speaking of which….
Kindle
In order to make digital check-outs easy, we have a couple Kindles and iPads for kids to read on. In fact, everyone can read the same book at the same time!
We used Kindle Unlimited for a time, but have since put that on hold. We weren't sure if we were using it to its full potential because not all the books we want to read are available through that service. However, if you read more than $10-worth per month or have more than $10-worth of library fines, it may be worth if for you!
Since I bought history and literature books for my teens this year, I bought some books on Kindle because they were cheaper or because I knew we'd both need to read it at the same time. I love the easy portability and big storage. Watch for sales at Christmas! I bought ours for $29 after rebate. It's the bare bones one with special offers, and it works great for our purposes.
This is the school supplies list that I draw from each year. These items have proved their worth over the years.
What makes YOUR school supplies list?
Disclosure: