Our Simple Household Cleaning Tools
As an Amazon Associate I earn from qualifying purchases. For more details, please see our disclosure policy.
Cleaning supplies don't need to be numerous, expensive, or caustic. Here are the simple tools we use that save us money.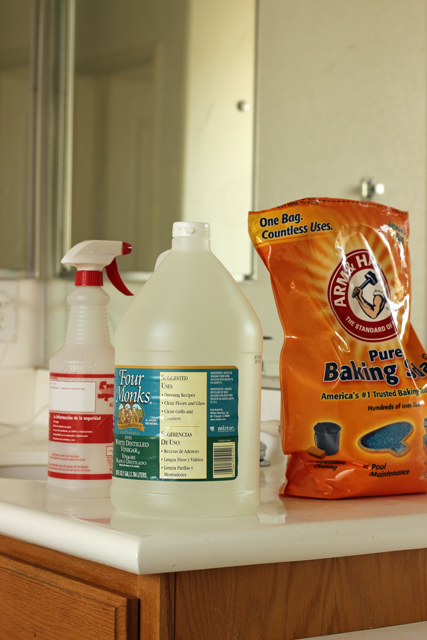 About a year or two ago I was walking down an aisle at the grocery store and found that I had a really hard time breathing. It was mostly the really offensive odors that were getting to me. I was really surprised. Since then I don't walk down the cleaning aisle unless I have to. And turns out, I don't really have to since our cleaning protocol is so simple.
Over the years, I've developed a desire for my kids to help with the chores — as well this sensitivity to chemicals. Both circumstances lead me to use non-toxic cleaners whenever possible.
Here's what we've got in our cleaning arsenal:
White vinegar
Yep, super simple, the same white vinegar you could use in cooking. Simple as it is, white vinegar is the cleaner we use to clean and disinfect most places in our home. I buy spray bottles at Walmart or Lowe's and we fill them with straight vinegar that I buy in big bottles at Costco for a few dollars each.
We use just straight vinegar, but you can dilute vinegar with water for an even cheaper, effective cleaner. Or infuse it with citrus to have a great smell and the cleaning power of lemon. There are some things you don't want to clean with vinegar, but I don't have any of those surfaces in my home, so we're good here.
We use vinegar spray to clean vegetables and fruits, wipe counters and sinks, wipe the table, clean mirrors, and wipe down bathroom floors.
Baking soda
I buy ginormous bags of baking soda at Costco for cleaning. This adds the little bit of grit you need to scrub off soap scum and stuff like that.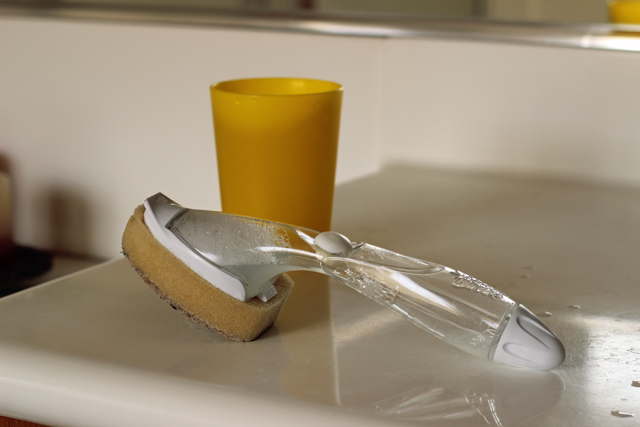 Cleaning Wands
I used this type of cleaning wand twenty years ago to wash dishes, but it's only in the last year that I've added it to our bathroom cleaning arsenal. It works great for scrubbing showers and sinks. Lately we've been using a mixture of diluted dish soap and vinegar.
Bleach
We use a little bleach for some spaces (like plastic cutting boards) and a bleach-based toilet bowl cleaner for the toilets, but I'm intrigued to try these strategies of non-toxic bathroom cleaning. I actually have the castile soap and the other ingredients so it's on my list to try this week.
A simple broom
We've got a broom for sweeping the kitchen and entryway. It's supposed to be done three times a day. Its completion depends on whose chore it is for the month.
A Magic Eraser mop and a steam mop
Our kitchen floor is 15+ year old linoleum that is way past its prime. If I had extra money, I'd buy a new floor, even though I don't own this house. It's so bad it doesn't really stay clean. We have to mop the floor twice, once with a Magic Eraser mop to get the grime up and then once with the steam mop to soak up the black water that the magic eraser leaves behind.
I use the steam mop on the entryway tile and laundry room.
A vacuum
We've had our Oreck vacuum for a little over three years. It does its duty at least once a week in every room. It's serving us well.
Having the right tools for cleaning is, of course, only half the battle. I'm currently reading this book — I am hoping for some "life-changing magic". Halfway through, I've had several epiphanies: 1, we have too much stuff, and 2, there are better ways to store clothes than I've been using. More on both of those soon!
In the meantime….
What are YOUR favorite cleaning tools?