Make These Easy Painted Glass Globe Ornaments with the Kids (12 Days of Christmas Family Fun)
As an Amazon Associate I earn from qualifying purchases. For more details, please see our disclosure policy.
Creating Christmas tree ornaments can serve as a fun family activity. These easy painted glass globe ornaments would also make elegant and inexpensive gifts as well.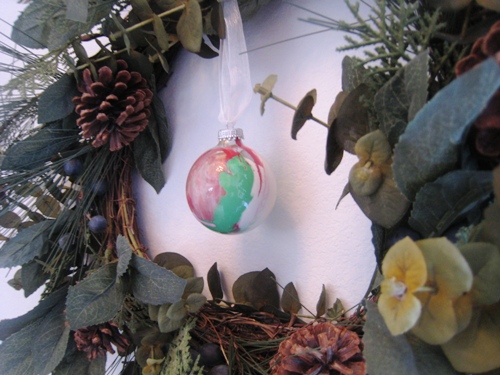 The kids and I painted these swirly glass globe ornaments last week as the start of our Christmas countdown. They were incredibly easy to paint — and so much fun! All my kids were totally into this activity, even the big 'uns. Heck, I had a blast making them!
My mom told me about these years ago, but I never tried them. Then recently, Mandi's post reminded me to give them a try. They were so easy to do, that we made several sets, some to keep and some to giveaway as gifts.
I found the clear glass ornaments at Walmart for $5 for a pack of 8. But, if you want to plan for next year, stock up at the next post-Christmas sale.
Painted Globe Ornaments
What you need:
clear glass ornaments
acrylic paint
ribbon for hanging the ornaments
To paint the ornaments:
1. Remove the plastic or metal cap from the ornament. Do this carefully so as not to bend it or tweak it. You want to put it back in later.
2. Add paint to the inside of the ornament. My kids got to choose from green, red, cream, and gold, paint colors that we already had. I just added a few blobs of each color at one time and let the kids swirl them around. A lot of mixing happened, but not enough to make the paint into mud. If you want to be more methodical, you can add one color at a time.
3. Allow the paint to dry. Mandi had the great suggestion of emptying out the extra paint. Wish I had read that before we did it the first time. Our paint sat in gloppy pools at the bottom of the ornament. It didn't effect the beauty of it, but it did take a longer time to dry.
4. Replace the metal or plastic hanger and tie a ribbon around it for hanging.
12 Days of Christmas
This week we're sharing quick and easy ideas for family fun while some friends are sharing tips in different areas.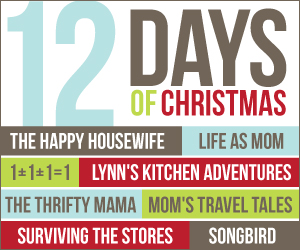 Do YOU have a favorite ornament to make?
Feel free to share the link.