Bathroom Maintenance Tips and Tricks
As an Amazon Associate I earn from qualifying purchases. For more details, please see our disclosure policy.
Are you on Zone Defense this year? Once you get your bathroom decluttered, consider these tips for regular bathroom maintenance.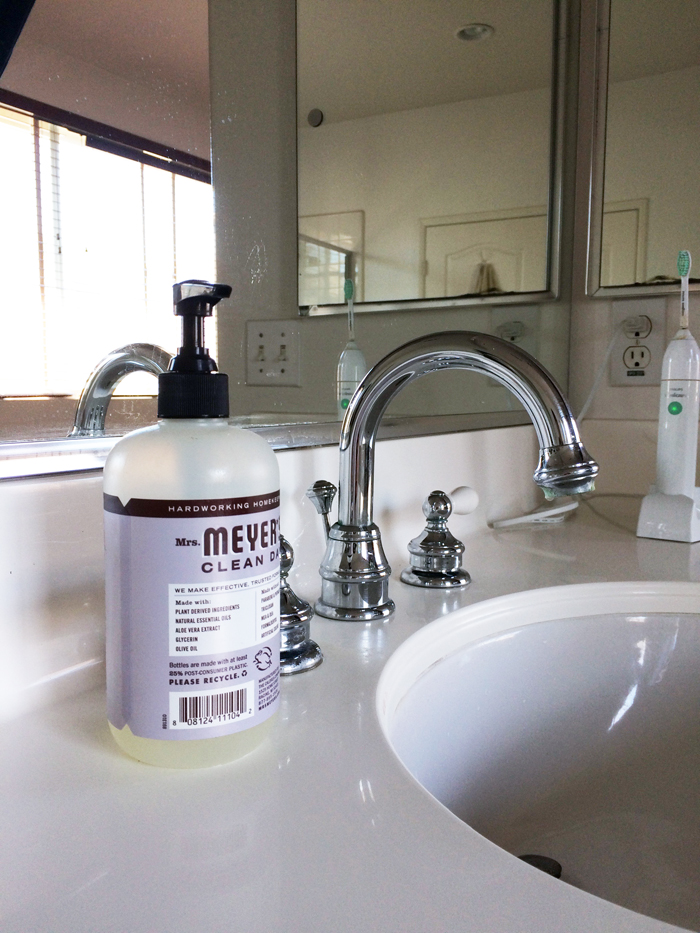 It wasn't too long ago that I shared with you my latest push goal: to get our household systems more or less in better working order. It didn't happen in July as I had originally intended — I was summering — but, it did happen in August.
In fact, we had a maintenance inspection last week and a planned Zone Defense in the bathrooms, so it was like all the stars aligned, and I had to get my rear in gear.
As you may know already, our kids are responsible for cleaning three out of the four bathrooms. They pair up: the girls tackle their en-suite bathroom; two boys tackle the boys' bathroom; two boys tackle the main floor bathroom. I had suspected that the bathrooms were all due for a Mom Overhaul, and I was not disappointed. Heh.
The kids do a decent job with surface dirt, but the deep cleaning and calcium deposits, well, it needed a mother's touch. I also discovered a few things that my kids needed to learn: like scrubbing around the toilet caps. Ahem.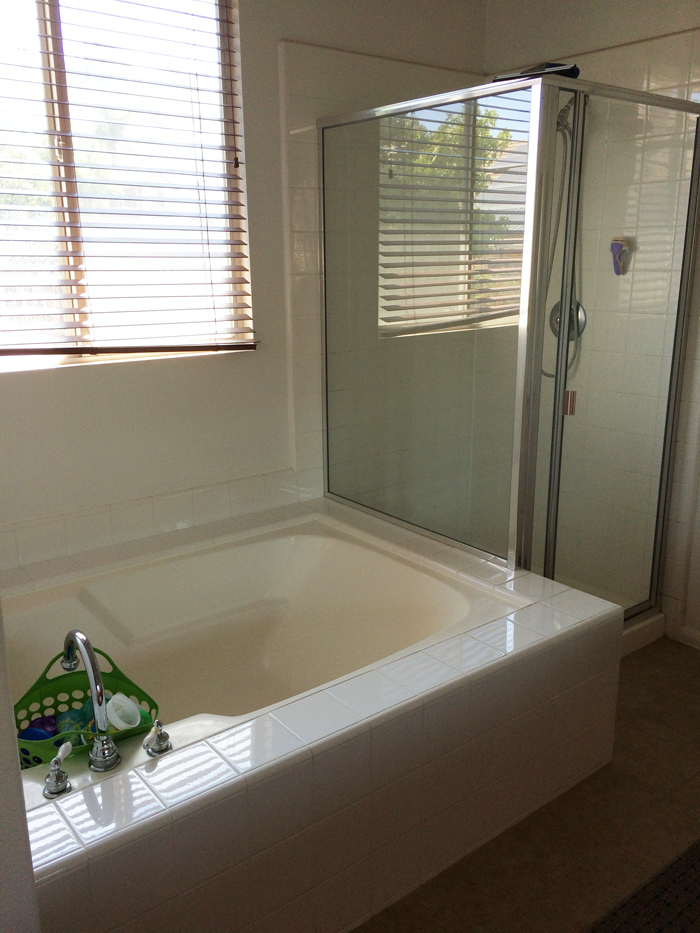 Since we had a couple bathrooms renovated in the late winter and then had the house tented for termites in the early spring, we'd already done a decent dejunking in the bathrooms. There wasn't much there to clear out, it was just basic deep cleaning to be done.
I found that the product CLR was super helpful in getting the mineral deposits off the shower enclosures, sinks, and tubs. I bought a small bottle at Walmart for about five bucks and it worked wonders.
Now, we're back on to regular bathroom maintenance. Here are some of the strategies that I've found to be helpful over the years:
Bathroom Maintenance Tips and Tricks
1. Wipe down the bathroom every day.
Both the Sidetracked Home Executives and the Motivated Mom app recommend daily bathroom maintenance in terms of cleaning tasks. It may seem odd to wipe down the bathrooms every day if you're not in the habit, but it takes just a few seconds and does a really good job of maintenance. You won't have a ton to do on your regular cleaning day.
Humorous Homemaking suggests cleaning something in your bathroom every time you go in there. If you're up on your water consumption, this should be quite frequently! And your bathroom will never be cluttery or dirty. If you've got little kids, do a quick tidy during bath time every night.
Short of cleaning every thing every day, do the minimum of emptying trash cans, wiping sinks, mirrors, toilets, and counters. Assign each child one or two tasks house-wide, and it will be done in a jiffy! Save the floors and shower/tub cleaning for once a week.
2. Have a laundry basket for towels in every bathroom.
Since my kids do their own laundry, they are expected to take their dirty clothes back to the hampers in their rooms. The bathroom hampers are for TOWELS ONLY.
Once this rule was instituted, towel washing became a no-brainer. Any child can now collect the towel hampers and run a load of towels. This saves on the back-up of laundry as well as having someone hollering wet and naked from the shower that he or she needs a towel.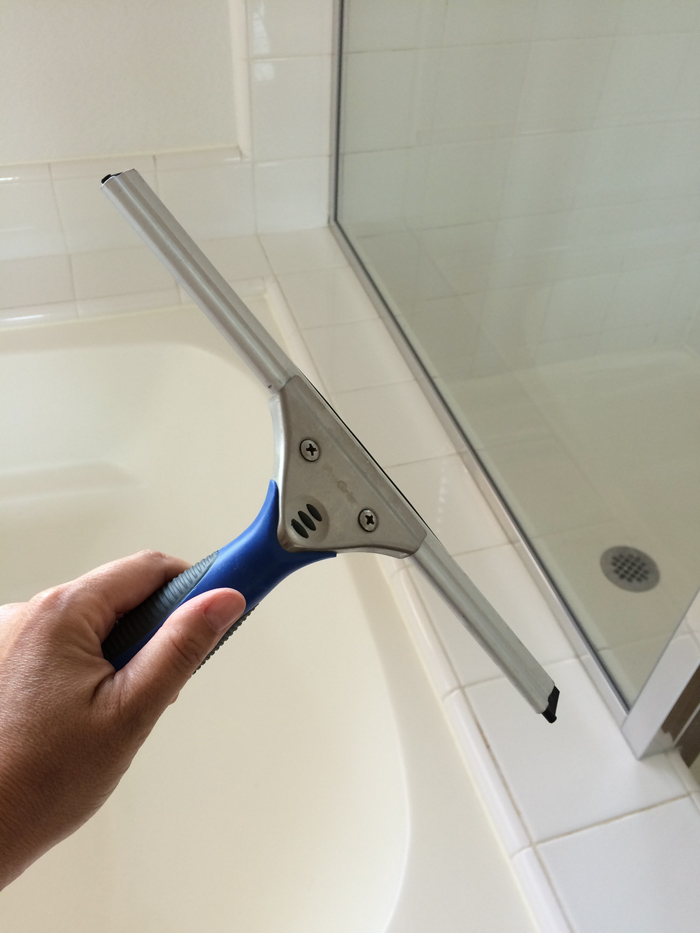 3. Use a squeegee in the shower.
If you have glass showers, you are going to get water spots. If you have hard water, you are going to get lots of stubborn water spots. Ask me how I know. Supposedly bar soap makes this a bigger issue.
Rinsing down the shower walls and drying them with a squeegee after each shower cuts down on this issue in a big fat way.
We had a squeegee in our bathroom, but not in the bathrooms the kids use. This has been rectified now, so that I don't have to scrub off more hard water spots. Ahem. I bought these squeegees for the kids' bathrooms, though the one pictured above is one FishPapa bought at Lowes.
4. Have a schedule for cleaning the bathrooms.
Typically our schedule has been that everyone cleans his assigned bathroom on Fridays. This works well because Fridays are lighter school days and we like having things clean going into the weekend.
If you've followed Step One more or less throughout the week, "cleaning" may entail giving the tub or shower a good scrub and mopping the floor. Be sure to download the bathroom cleaning checklists if you or your people need a reminder of what needs to be done.
Boom! With regular bathroom maintenance, your bathrooms will be mostly presentable most of the time and you won't spend a ton of time scrubbing. Can I get an amen to that?!
More Cleaning Tips